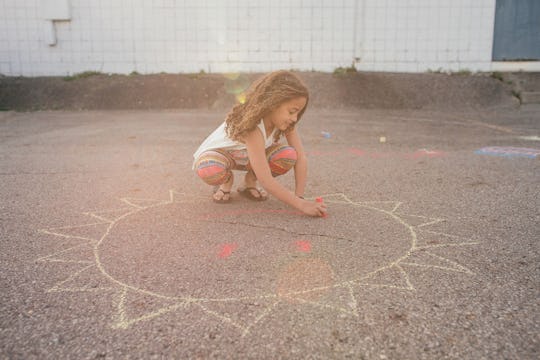 Melanie DeFazio/Stocksy
Get That Bonfire Ready, Because Summer Solstice Is Almost Here
Sure, Memorial Day weekend is a time for barbecues and other outdoor fun. But contrary to popular belief, the holiday doesn't actually mark the start of summer. That date comes nearly a month later, when the summer solstice arrives on our side of the planet. That's good news for those of us who worry that the season is already slipping away far too quickly.
This year, the summer solstice falls on June 21, at 11:54 EDT, according to the Old Farmer's Almanac and other sources. That's the moment when the Earth's axis will tilt at an angle that brings the sun to the highest and most northern points in the sky. As a result, the Northern Hemisphere will receive the most sunlight it will get all year, and the strength of the rays brings us warm weather for the next few months. (Reader's Digest explained that it's not the hottest day of the year, since it takes a while for the Earth to release all the heat absorbed from the extra sunlight. It's also not necessarily the day with the latest sunset; that happens a few days later.) Over on the other end of the world, of course, the opposite is true: the sun reaches its lowest point in the sky, and colder weather sets in.
This astronomical phenomenon has been fascinating people virtually since the beginning of time. As the History Channel reported, ancient civilizations looked to the solstice to determine their planting and harvest schedules. Pagan cultures honored the occasion with bonfires, which were thought to encourage the sun's warmth and bring on a fruitful fall harvest. The monoliths of Stonehenge, in England, were built as a place of worship, and festivals were held there during the summer and winter solstices. Even today, crowds still flock to Stonehenge to catch the rising sun on each solstice; the light comes into a near-perfect alignment with the stones.
Want to welcome the real beginning of summer in style? Here are a few suggestions:
Catch a livestream of the sunrise over Stonehenge. This site has videos of past solstice and equinox coverage as well.
Greet the sunrise with a sun salutation yoga pose. The United Nations has declared June 21 the International Day of Yoga, with the aim of promoting the health benefits of the centuries-old practice.
Make a flower crown. In Sweden, Finland, and other Scandinavian countries, it's traditional to celebrate the beginning of summer with floral headgear. Gather some posies from your own garden or a craft store and follow these easy steps to your own flower crown from ProFlowers. Even better: Make it a family project and get your kids involved.
Grow or add to your garden. It's not too late to get your tomatoes, zucchini and eggplant going, or start a window herb garden, or decorate with hanging baskets of verbena, geraniums, or nasturtiums. This is a time to revel in summer blooms and greens. As a bonus, you could grow some St. John's wort, a plant associated with good luck at this season (it's also known as "chase devil").
Feast on strawberries. In Sweden, when the sweet fruit begins to appear this time of year, it's traditional to eat strawberries on the summer solstice, according to the Old Farmer's Almanac.
Make or attend a bonfire. This time-honored tradition is thought to repel evil spirits and ensure a good harvest. Whether you attend a local event or set your own blaze at the beach or backyard fire pit, take time to admire the power of the fire and imagine it guarding you and your loved ones.
Make a resolution — and make plans to keep it. The website Rhythms of Play noted that the year's solstices and equinoxes are a great time to take stock of your life and set goals for yourself. Then go the extra mile and make a plan to accomplish them. (Remember how you vowed back in January to start exercising more often? It'll be a lot easier now that the weather is nicer.)