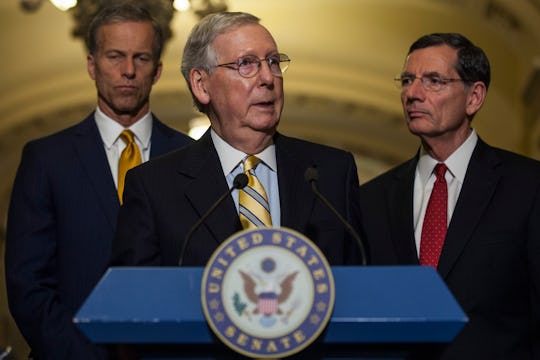 Zach Gibson/Getty Images News/Getty Images
The BCRA Vote Could Come As Soon As Next Week
On Thursday, the Senate released a "discussion draft" of the Better Care Reconciliation Act, which is its version of a health care bill that will repeal and replace parts of the Affordable Care Act. It's an important piece of legislation that, if passed, would affect more Americans than any other piece of legislation Donald Trump plans to sign off on during his administration. So when is the BCRA vote and how much time do Americans and lawmakers have to debate the finer points of the bill?
As it turns out, they might not have a lot, which is pretty shocking. Senate Majority Leader Mitch McConnell said that he hopes to bring a vote on the bill before the July 4 holiday recess, which means that they would have to vote on it before the end of this week. That's very, very fast for a bill that would affect the health care of millions of Americans.
To pass the ACA, for example, Congress held numerous, lengthy, and televised hearings debating the nuances of the bill. It took two years to pass it, and the debates over the individual mandate went all the way to the Supreme Court. It was excruciating to watch, but there was a public debate.
That's usually how things go. Senate Democrats (and anyone who might one day need health care) are worried that this bill will pass too quickly, without any debate. But there seems to be a rush to repeal and replace Obamacare, in any way possible, coming from the administration.
The bill was drafted by 13 male senators, pretty much behind closed doors. Last week, Alaska Sen. Lisa Murkowski said told reporters that she hadn't seen a draft of the bill just hours before it was released to the public, quipping, "I am not a reporter, and I am not a lobbyist, so I've seen nothing." Allegedly, McConnell and the other senators crafting the bill had been talking to insurance companies and health care lobbyists to draft the bill, instead of bringing in a bipartisan group of their colleagues only to hash out the finer policy points.
This is not a tiny bill about whether or not the country should have more bike lanes or fix more potholes (if only, right?). The bill would drastically cut Medicaid, take away tax subsidies for lower income people to afford health care, defund Planned Parenthood, potentially charge senior citizens and kids with disabilities more for health care, and give states the option to take away essential health benefits like maternity care, prescription drugs like inhalers, mental health care and substance abuse coverage.
Some suggest that the newest iteration of the bill is even more brutal than the American Health Care Act that passed in the House of Representatives in May; The Congressional Budget Office estimated that that bill would take away health care for almost 24 million people. The CBO plans to release it's review of the BCRA this week. If passed in the Senate, the bill would then have to be reconciled with the House bill before it gets to Trump's desk to be signed into law.
Politics aside, this bill is a big deal. At the very least, Americans should get to hear their representatives defend it before it goes to a vote. That would be the most patriotic thing to do before the Fourth of July holiday.