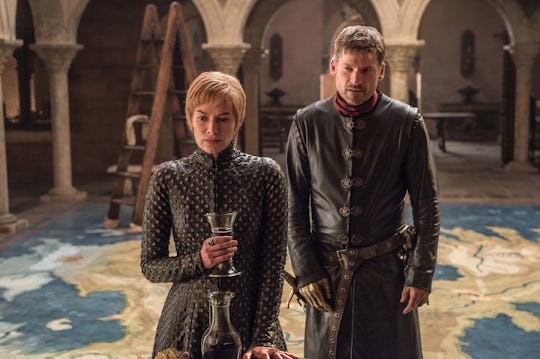 Helen Sloan/HBO
You Won't Believe How Close The 'Game Of Thrones' Season 7 Finale Is
We all knew that the final two seasons of Game of Thrones were both going to be a lot shorter than the preceding six. That also means fans have less than two months of Season 7 to enjoy before the finale is here and the penultimate season is done. So when is the Game of Thrones Season 7 finale? This season is definitely a shorter one with only seven episodes to its name, so the season finale is going to debut much sooner than any of us would like, more specifically on Aug. 27 at 9 p.m. ET.
I know, it stinks. However, there is an upside to all of this. Even though there are fewer episodes, you can take comfort in knowing that the Game of Throne Season 7 finale is going to be 81 minutes long. That's almost the length of a movie! If that's the episode where viewers will get big revelations, like Jon finally discovering his true parentage, or the White Walkers starting the war with all of Westeros, then viewers will definitely need 81 minutes to cover so much ground. If the Season 7 premiere is any indication, each of the remaining six episodes this season are sure to contain enough content and progress to make each hour episode, give or take a minute or 10, worthwhile instead of being filler episodes in any way.
Typically, normal seasons of Game of Thrones last somewhere along the lines of nine hours total, so the seven hours and 20 minutes that Season 7 is going to span definitely lacks in the minute department, though not as much as it could have been if all seven episodes were the typical 59 minutes long like the season premiere. In other words, fans will be just fine and the Aug. 27 Game of Thrones season finale will be long enough to make up for the loss of total episodes.
In the past, some seasons have allowed stories to be a little more drawn out and if this was still the case then Euron would probably still be making his way to King's Landing and Sam's montage at the Citadel would have been more like a three episode long affair to show viewers what his daily life is like as a maester in training. So at least viewers can count on Season 7 to give them more valuable content and action with each episode, making them pack an extra punch. And the finale should be no different.
There's no denying that it's going to feel like a shorter season regardless, but hopefully when it's over there will be a lot of answers to the questions that fans have been asking for years.