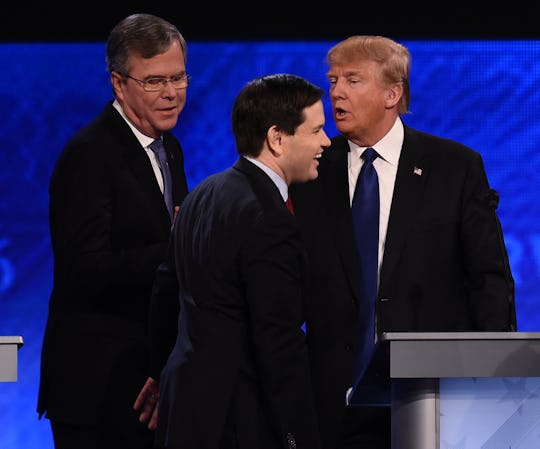 JEWEL SAMAD/AFP/Getty Images
When Is The Next Republican Debate? The Remaining Candidates Will Duke It Out In South Carolina
I just know you were worried about how to keep yourself busy for the next week while we wait for the South Carolina and Nevada primaries to start up. Fear not! We still have another Republican debate to look forward to. Since New Jersey Gov. Chris Christie and former Hewlett-Packard CEO Carly Fiorina dropped out after placing sixth and seventh in the New Hampshire Primaries this week, that leaves a field of six candidates ready to duke it out. So when is the next Republican debate and how can you watch it?
The debate takes place in Greenville, South Carolina at the Peace Center (a performing arts venue that used to make Duke mayonnaise, FYI) this Saturday Feb. 13. It begins at 9 p.m. EST and airs on CBS, so if you were thinking of getting the jump on the Valentines crowds and taking your sweetie out for dinner, think again.
After all, this is the Republican debate. You know things are going to get all kinds of interesting. With the race heating up since the New Hampshire primaries (where New York business mogul and presidential hopeful Donald Trump swaggered off with a huge win, beating out his competitors with a decisive 35.5 percent of the vote), we can expect the candidates to bring their game faces. Which in at least one case look a little something like this:
Expect to see Trump at his bumptious best with both the New Hampshire finish and the most recent polls in his favor. Trump is currently in the lead with approximately 36 percent of the prospective vote according to a recent Real Clear Politics average; His next closest rival is Texas Sen. Ted Cruz at 19.7 percent. Florida Sen. Marco Rubio and former Florida Governor Jeb Bush trail with 12.7 percent and 10 respectively, while retired neurosurgeon Ben Carson sits at 8.7 percent.
Following Carson is Ohio Gov. John Kasich. Finishing in second place in New Hampshire, Kasich carries approximately 4 percent of the prospective vote and goes into the next few primary battles with all eyes carefully watching his next steps.
The candidates can be expected to play to the conservative nature of South Carolina this Saturday, likely covering topics near and dear to the hearts of its citizens, like military spending and national security to name a few.
Along with their platforms we might even see some of the good old-fashioned mud-slinging, moderated by John Dickerson, anchor of CBS News Face The Nation and political columnist for Slate — and that's the way political events ought to be. Right?