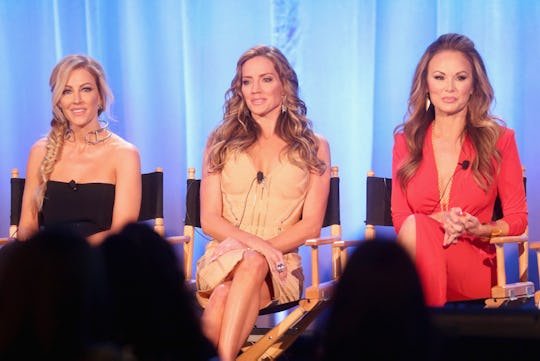 Frederick M. Brown/Getty Images Entertainment/Getty Images
When Is 'The Real Housewives Of Dallas' Season 2? The Future Of The Show Is In Question
The Real Housewives of Dallas has been a fair addition to the franchise during its first season: there were ridiculous displays of wealth, questionable makeup application choices, rumors spread far and wide, and even one off-camera argument that led to tears and broken glass. The women have settled into friendships and feuds, made up and made things worse, and put their private lives on display for the entertainment value. There's definitely enough material there to carry the show through a second season, so when is The Real Housewives of Dallas' Season 2?
Unfortunately, there might not be a Season 2. Though Bravo has renewed several other shows already, there hasn't been a renewal notice for RHOD. Despite serving the drama, the ratings for the show haven't been great, so there is a real question whether or not it will return. The Real Housewives of Potomac, another new entry to the brand, was renewed shortly after its finale, so there is still time for RHOD; it's possible the renewal news might come during the reunion episodes or even after them. Even the cast of the show doesn't seem to know if it will be back – or if they do, then they're not telling.
Some of the cast has seemed open to returning to the show, while others are less certain. Brandi Redmond seemed unsure about whether or not remaining on the show was the right decision for her, but she did like a tweet that referenced possible things to come in Season 2. Cary Deuber definitely seems like she's on board if the show returns. On Heather McDonald's podcast, Juicy Scoop, Cary confirmed that the cast doesn't know if RHOD has been renewed, but added that she enjoyed her time on the show. In a Blog post for Bravo, she said, "It's been a privilege to be part of the Real Housewives," so if anything, Cary would probably want to come back.
Even with the less than stellar ratings, it's possible the show could return with a few changeups to the cast. Every show in the Real Housewives franchise adds or removes a cast member or two between seasons in an effort to find that sweet spot of craziness and chemistry between all the women; it could just take a little bit of readjusting for RHOD to really soar. If the show did return, it would likely do so around early April if it kept with the pattern set by the first season premiere.
All hope isn't lost; even without the official announcement, there's always a chance Bravo will give the show a second chance.