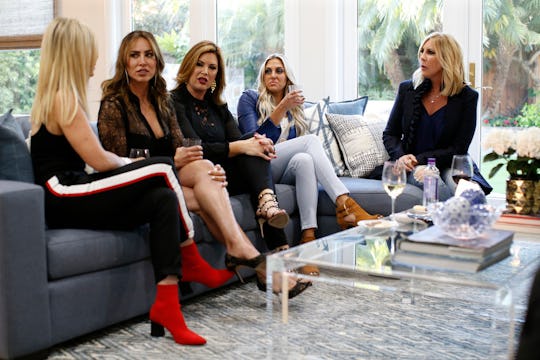 Phillip Faraone/Bravo
The 'RHOC' Season 13 Reunion Is Going To Be A Messy One
There's been no shortage of feuds and drama this season on The Real Housewives of Orange County, and I fully expect it all to come to a glorious head on the reunion special. As per usual, fans are getting a two-partner, but they're no doubt going to be wondering, when is the RHOC Season 13 reunion? To some, it's the most anticipated segment of the season and each of the two parts will air on Nov. 25 and Dec. 2, respectively. OK magazine reported that the reunion was taped in October and said at the time that while some beef was squashed during the reunion, other long overdue confrontations finally happened. And I know that I'm not the only one here for Kelly Dodd and Vicki Gunvalson's drama coming to a heated conclusion on the reunion couches.
The former best friends' drama began when Kelly accused Vicki of setting up her ex-husband on a date. Vicki and her own boyfriend later went on double dates with Kelly's ex, as seen over the course of RHOC Season 13, and it put an even bigger strain on their already fractured friendship — if you can call it that at this point. Apparently, though, the Season 13 reunion will give Kelly the closure she's been looking for in the form of confronting Vicki over all of this and their continued drama that lasted all season. So get your popcorn ready.
Viewers might see less drama from Tamra Judge and Shannon Beador, however. During the ladies' trip to Jamaica this season, fans saw Tamra confront Shannon with the rest of the women about her mood and what Tamra saw as constant sulking. At the time, Shannon had been going through a divorce and the other women alleged that she was suffering from untreated depression and using alcohol as a crutch to get through everything while taking it out on them.
"Basically, I think that Shannon has the biggest heart, and she is the nicest person, but sometimes when you're consumed with so much stuff going on in your life, you don't look at your friends and ask about their day," Tamra recently told AOL.com in an interview. "She's a very emotional person, and she always wants to tell you about it, but we don't always want to hear about it." It sounds like Tamra and Shannon have come back from that awful confrontation and when it comes to them at least, there might be some lighter moments during the two-part reunion.
Both Shannon and Tamra talked about their feelings going into the Season 13 reunion in a video Bravo posted online. And while Shannon said that she wasn't nervous or excited about filming, Tamra said that she knew to expect some potentially unexpected moments. "You don't know how it's gonna go," Tamra said. "You might think, 'Oh my God, this is gonna be an easy reunion,' and all of a sudden, you're like, 'Oh sh*t, where'd that come from?' It's like going into the unknown." As a viewer alone, that sounds terrifying, especially given how intense the reunions can be and have been in the past. And with all of the drama between different women this season and the friendships that were made and broken, anything can happen.
I hesitate to say that this could be the most dramatic reunion of RHOC ever, but we've already got feuding housewives and friendships that are rocky at best. Basically, they're the perfect ingredients for a table-flipping reunion full of shouting over Andy Cohen and storming off-stage at any given moment. And it's what all RHOC fans live for.