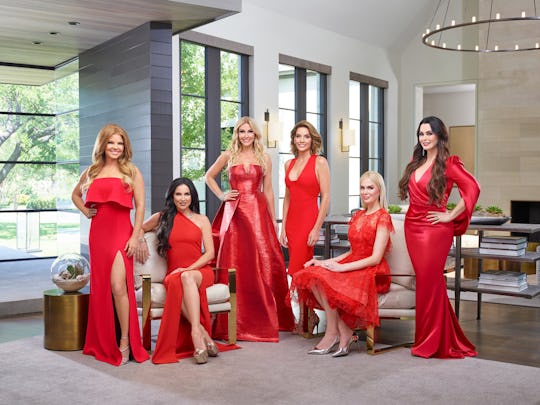 Tommy Garcia/Bravo
Here's What We Know About The 'RHOD' Season 3 Reunion So Far
The Real Housewives of Dallas are currently sightseeing their way through Copenhagen and just really trying their best to appreciate Nordic cuisine while stifling their urges to order fries at Michelin-starred restaurants. But while fans are eagerly eating up this disastrous and drama-filled girls' trip, they're probably also wondering: when is the RHOD Season 3 reunion? The dates have yet to be announced by Bravo, but the ladies' social media accounts reveal that they filmed the reunion show in early November. So it's not far off.
The first two seasons of RHOD had 10 and 12 episodes, respectively, before their reunion shows aired. Season 3 has at least 16 episodes planned before the reunion starts, which means that the earliest a reunion show might air is Dec. 5. Season 1 of RHOD had just one reunion episode, while Season 2 split it up into two parts. Given the super-sized Season 3 — including an international vacation — it's not outside the realm of possibility to image they'd get a three-parter this year, like the more firmly established parts of the franchise.
One thing Bravo did announce to get fans excited for the reunion show fireworks is the event's seating arrangement! According to a teaser video, Stephanie Hollman, Brandi Redmond, and D'Andra Simmons will be on the couch to Andy Cohen's right, while LeeAnne Locken, Kameron Westcott, and Carrie Deuber will be on the couch to Cohen's left.
The cast's social media posts prepping for the reunion reveal that they filmed it in New York, and also that the Real Househusbands will participate in filming this year. Even Momma Dee tagged along, although it isn't clear yet whether she'll be filmed during the reunion or if she just came to support D'Andra. Bravo caught up with Kameron and LeeAnne at the Third Annual Vanderpump Dog Foundation in Los Angeles this week and got some details from each of their experiences at the reunion. Said Kameron:
To be honest, I felt like nothing really got resolved. I feel like it's all a crazy mess still. You'll see people speaking their truth, which sometimes is not the truth. A lot of people lied, and I have a really hard time being around people that lie. I seriously sat there shaking because there were women talking to me where I was like, "You did not do that! Why are you saying that?" It was a complete, flat-out lie. I feel gross because I look back, and I'm like, "God, I was just around people that flat-out lied to my face," so it's hard.
LeeAnne reported a similarly disappointing experience, saying, "I don't know that I got everything out that I wanted to say. It was a long day, and I think there was a lot that everybody had to say."
But, she added that some people finally spoke their minds and "really got some stuff out" that had never been addressed before. Said LeeAnne, "I'm just super proud of them. And I'm super proud to be their friend."
Season 2 of Doula Diaries shares the stories of fearless doulas helping their clients take control of their births and make tough choices that feel right to them. Watch the first episode of the new season Monday, November 26th.