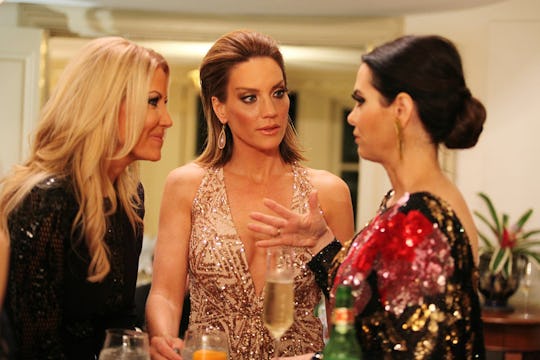 Peter Larsen/Bravo
The End Of Season 3 Of 'Real Housewives Of Dallas' Is Nigh
The Real Housewives of Dallas Season 3 has been full of the kind of drama and feuding that brings fans back every week. But if it seems like there's been more this season, it's because Season 3 has actually been longer that the previous two and it makes you wonder, when is the season finale of RHOD? This season has already had 13 episodes, whereas Season 1 had 11 including the reunion and Season 2 had 14 including its two part reunion. Although there was never an official announcement about how many episodes RHOD Season 3 is, it's safe to say that there are probably just a couple of new episodes left until what's sure to be an explosive finale.
Given the episode count and dates so far, the season finale could be on Nov. 21, 28, or as soon as Nov. 14. But there hasn't been an official date announced for the reunion and it's unclear how many episodes there are in total this season. The short of it is that the season finale of RHOD is coming up fast and I have a feeling that all hell is about to break loose.
On Nov. 5, Bravo dropped the final trailer of the season, which promised more fighting and animosity between the women. It didn't mention how much longer the season had left at that point, but assuming it was a mid-season trailer, I would imagine it meant that there were just a few episodes left after the trailer aired. Most of the trailer detailed the cast trip to Copenhagen, so this could be the last place the housewives visit before the season ends and the reunion airs. Unfortunately, it's all still speculation at this point, but Real Housewives shows don't typically last longer than 15 episodes, especially those only in the third season.
From the premiere, Season 3 of RHOD has been full of enough drama to make you wonder how some of these women can still do things like take girls' trips together. At one point this season, D'Andra Simmons and her mom claimed that LeeAnne Locken referred to Brandi Redmond as an alcoholic and the whole thing got blown up several times over. LeeAnne herself has denied those claims both on and off the show, but it was a rumor that Brandi took to heart and the two haven't been able to quash their beef yet.
Although Bravo hasn't yet announced the Season 3 reunion premiere, the first promo was posted online and promises more "Texas-sized drama to come." And the fact that it was posted now, ahead of Wednesday's upcoming episode, proves that the end is near. In reality TV though, the end of the season means getting a potentially multi-part reunion and shows in The Real Housewives franchise are known for bringing the ultimate tea. And I can only imagine what this reunion will actually be like, short of the women flipping tables and lunging for each other.
But it is likely nearing the end of the season and nothing has been resolved. During the first night in Copenhagen, some of the women were already going at it during dinner. And things have gone from bad to worse whether they've all been sightseeing or sitting down to talk out their issues. I'm not sure what's really worth salvaging at this point, but it's likely only going to get more intense in these last couple of episodes. If nothing is fixed by the season finale, then the reunion is definitely going to be stressful for the cast and for the fans watching at home.