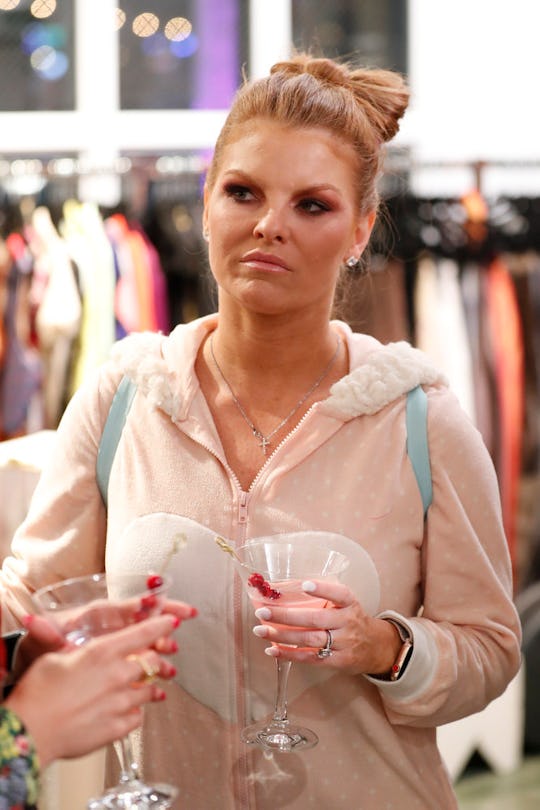 Danny Bollinger/Bravo
LeeAnne Doesn't Remember Calling Brandi An Alcoholic On 'RHOD'
The Real Housewives of Dallas Season 3 has already had enough drama to fill up several seasons — and it's not even over yet. And in the previews for the rest of the season, things aren't slowing down. If LeeAnne Locken and Brandi Redmond didn't already have issues, it's going to be worse than ever in these final episodes. In one scene, Brandi tearfully confronts LeeAnne about allegedly calling her an alcoholic, but did LeeAnne really call Brandi an alcoholic on RHOD?
In the preview, LeeAnne says she doesn't remember calling Brandi an alcoholic before she tells the camera, "I don't think Brandi is sophisticated enough to be an alcoholic. I think Brandi's just a drunk." Wowzers. One of the big rumors this season was that LeeAnne said Brandi uses alcohol as a crutch, which eventually led to the claim that LeeAnne called Brandi an alcoholic.
To be more accurate, D'Andra Simmons' mother, Dee Simmons, told Brandi earlier this season that LeeAnne had referred to both Brandi and D'Andra as alcoholics. And, of course, it all spiraled out of control from there. There's been enough fighting between different pairs of the cast this season that you might need a scoreboard to keep track. Dee said that LeeAnne told her she was afraid that Brandi was becoming an alcoholic, but since no one else said they heard it from LeeAnne's mouth or those words specifically, it's hard to say if she really did use the word "alcoholic" in reference to Brandi. It could have been a mistake on Dee's part, but regardless, I think it's clear what LeeAnne thinks of Brandi.
Since the accusations that LeeAnne called Brandi an alcoholic surfaced, LeeAnne has denied those claims both on and off the show and took to her Bravo blog entry on Nov. 1 to address the topic.
Let me CLARIFY THE TRUTH about what Dee Simmons said to her daughter in their office...Dee is LYING! Let's go back to last week's footage and watch again. NEVER DID I SAY to Dee 'I am really worried about D'Andra being an ALCOHOLIC!' That is a BOLD FACED LIE! It saddens me to see a woman of this age resorting to lying when she genuinely doesn't have to! What everyone saw was me expressing my CONCERNS because I was ASKED to give them!
She also said that she "used the word 'alcoholic' ONE TIME this year, and that is why it is the only flashback you ever see!" At the time, when Dee told Brandi what LeeAnne had allegedly said, there were no receipts, so to speak, to prove it one way or the other. But since Brandi was already on bad terms with LeeAnne, she believed Dee and things continued on the same volatile path for Brandi and LeeAnne. At this point, whether LeeAnne said she's an alcoholic or not, the damage has already been done.
For her part, no matter how many times the word "alcoholic" was used, Brandi is firm that she does not, nor has she ever, had a problem with drinking or alcohol consumption. And to be quite honest, it's a pretty shady thing for a friend (or frenemy as the case may be) to say. I mean, did LeeAnne learn nothing from the Great Lisa Rinna "Close To Death" Debacle of 2017?
It's hard to say if Brandi and LeeAnne can ever really come back from this in future seasons of RHOD. It's clear that Brandi is terribly hurt and frustrated by LeeAnne's implications, and the two weren't exactly on the best terms even before this. Only time will tell. But in the meanwhile there's plenty of drama yet to come.