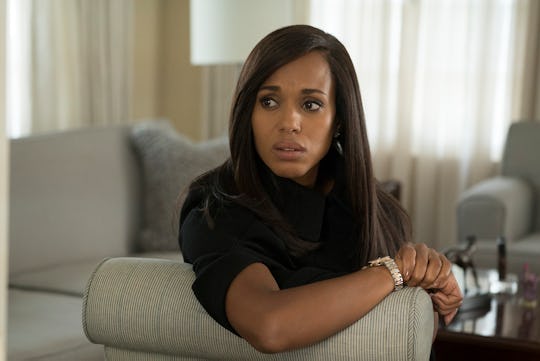 Eric McCandless/ABC
Mark Your Calendars, Gladiators: This Is When The 'Scandal' Series Finale Will Be
So far, the final season of Scandal has proven itself to be a whirlwind of drama, excitement, action, and yes, that famous Scandal intrigue. But we all went into this knowing if would be the final season, so of course Shonda Rhimes had to pull out the big guns and go out with a bang as far as her political drama is concerned. That being said, though, when is the Scandal series finale? There's still a lot more to come and since the season was given an 18-episode order to finish it out, it's not going to be one of those shortened final seasons that seem to end far too soon.
Since Scandal already took a pretty long hiatus over the winter holidays, it doesn't look like fans can expect anymore lengthy breaks. Episode 18, which has an unreleased title as of right now, will premiere on April 19 and mark the end of an era on ABC's weekly TGIT night. Right now, Scandal is about to air Episode 8, titled "Good People," so there's still plenty of time to round out each storyline and finish things off as only Rhimes can — even though I'm pretty sure that none of us are ready to part with Olivia Pope and her gladiators just yet.
It might seem like April is eons away instead of just a few months away, since there's still plenty of cold to go around for those in winter climates, but this isn't really anything new for the show. In the past, regardless of the length of the season, Scandal has typically ended near the end of May. It does look like Scandal will take a two week break at the end of February due to the 2018 Winter Olympics, but from there it's basically smooth sailing until the end of the season and the end of the show as a whole.
As for what fans can expect as the season moves ahead, that's not exactly clear just yet. There's still the matter of Quinn's fate on Scandal that has to be dealt with and what Rowan did when he seemingly held her captive in his basement for several days. But seeing as how that story looks like it's about to wrap up, especially if viewers learn who that baby was in Rowan's house and what happened to Quinn in the basement, there will be a whole other set of episodes to fill the season with. And my money is on the focus being on Olivia and the person she's become.
Before Quinn's disappearance, she'd been closing in on Olivia and had learned all about her part in killing the president of Bashran and his niece, who Quinn and Charlie had taken a special interest in. If Quinn is alive, then there's a good possibility that she could use some of Rowan's resources to try and take down Olivia for the crime. Later in the season there is an episode titled "The People v. Olivia Pope," after all, so take that how you will.
But, of course, that's assuming that Quinn isn't really dead, which from where I'm standing a pretty big assumption at this point. I used to think it was all a red-herring, but after last week's sentimental tribute to the fallen gladiator, I'm starting to really think she's gone for good.
With the Scandal series finale imminent, it's true that anything can happen, but the good news is that there are still plenty of episodes left this season until the April 19 finale. So hold onto your white hats, gladiators.
Check out Romper's new video series, Romper's Doula Diaries:
Watch full episodes of Romper's Doula Diaries on Facebook Watch.