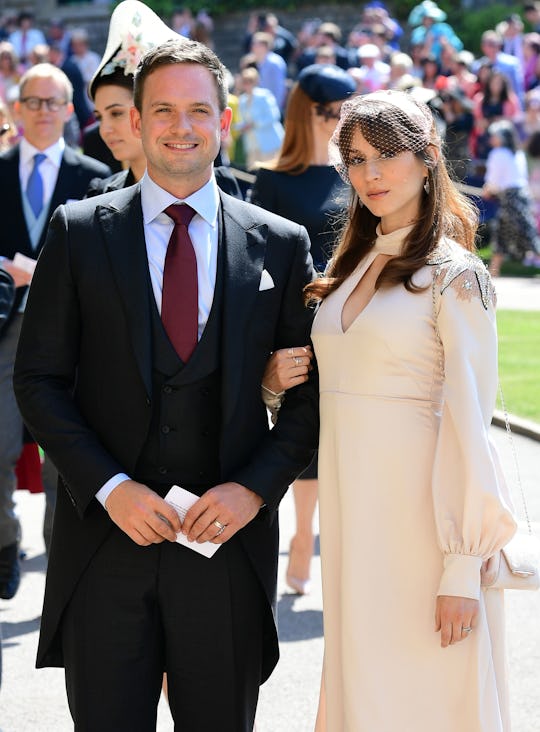 WPA Pool/Getty Images Entertainment/Getty Images
Here's What We Know About Troian Bellisario's Reported Pregnancy & Due Date
There's never an occasion as exciting as the possibility of welcoming a new celebrity baby, which is why reports that another Pretty Little Liars star is pregnant is so, so exciting. Though she has not confirmed the news, some still may be wondering: When is Troian Bellisario due? After going on vacation with her husband Patrick J. Adams this spring, many began speculating that she was expecting. Given that timeline, Bellisario would be delivering her baby in early 2019.
The Sun reported that not long after attending Adams' former Suits co-star Meghan Markle's wedding this May, the couple set off on a beach vacation during which some speculated that it appeared Bellisario was pregnant. Neither addressed the rumors at the time, but since then, the couple has seldom been seen in photos together since their appearance at the royal wedding (which, it should be noted, also sparked rumors that Bellisario was showing, Harper's Bazaar reported).
Adding even more confusion to the mix, Adams told Entertainment Weekly earlier this month that he and his wife talk about kids "all the time." He continued: "When the time is right, the time will be right. You know, we're not going anywhere. Very much in love and excited for everything that comes next."
E! News reported that, back in December of 2016, Adams and Bellisario tied the knot in a very unique California celebration. After getting engaged two years prior, the couple invited all of their closest family and friends to join them on a "camping trip," in which everyone stayed in a row of white tents for two days of rehearsing and celebrating.
As for how the two met? HelloGiggles reported it was during an acting gig. "We did a play together in LA called Equivocation," the website reported Adams said. "She was cast for the part of my romantic interest. We met and that was it. That was a little more than three years ago." The couple revealed that they'd been through their share of hard times, too, breaking up at one point only to decide to get back together not long afterwards.
Of course, that was far from the last time the couple would work together professionally. In fact, just days before news of the pregnancy broke, both Adams and Bellisario both posted teasers for their new film, Clara, which fans both applauded and used as an opportunity to inquire about whether or not the baby news was real.
In the comment section of Bellisario's post, one fan wrote: "I love you and I'm so happy for u, I'm sure you'll be a very good mother." Another said: "Is she having a boy or a girl?" While others even went so far as to congratulate them on the news. "Congratulations on your accomplishments and congratulations on your little bundle!!" someone wrote, while another added: "I'M SO EXCITED FOR YOU AND TROIAN!! I love you both so much, congrats!! You two are gonna be the best parents EVER."
But for Adams and Bellisario, it seems as though they are still running business as usual. Their social media has been filled with new projects, announcements and photos, but none of themselves, each other, or the rumored baby bump. Whether she is or she isn't, it's so nice to see how much the couple's fans adore them, and how happy they would be if and when they did decide to begin their own family. As Adams said just a few weeks ago, it's only a matter of timing. But for fans, it seems as though it's pretty much just a waiting game. We'll have to stay tuned to see whether or not an official announcement is made.