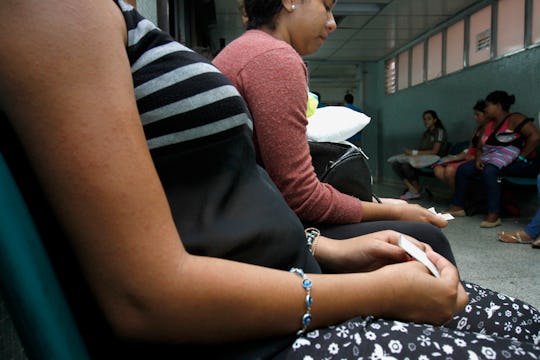 Schneyder Mendoza/AFP/Getty Images
When Is Zika Most Dangerous? This Trimester Is When It Could Have The Worst Effects
The rapid spread of the Zika virus has been causing alarm as pregnant women around the world have been scrambling for information on how to avoid infection — and with it, the host of neurological and autoimmune dangers that the Zika virus can pose for newborn babies. Currently, there is no vaccine or treatment for the virus. And while a Zika infection typically poses little risk in most patients, exposure during pregnancy can lead to miscarriage, severe birth defects, or possible stillbirth. But protecting yourself from Zika means understanding how the virus is (and isn't) transmitted and when the virus poses the greatest danger. Specifically, it would help to understand in which trimester a Zika infection is most dangerous, as well as when testing for the virus is most reliable. In an epidemic with so many unanswered questions, this has thankfully been an area where researchers offer clear answers.
On Thursday, world health officials called the sudden spread of the mosquito-borne Zika virus nothing short of alarming, CNN reported. The head of the World Health Organization told reporters in Geneva that the virus was "spreading explosively," according to CNN. The WHO predicted as many as 4 million cases of Zika will spread throughout North and South America over the next year. That prediction covered all Zika infections, including the estimated four in five patients who would feel no clinical symptoms, CNN reported.
Of course, researchers did not limit their estimates to pregnant women. Still, exposure to Zika has been associated with such profound health issues in newborns that health officials have urged pregnant women to take steps to avoid infection.
But when are pregnant women most at risk? In an earlier story, the Times reported that Zika infection early in pregnancy seemed to pose the greatest risk for developing newborn microcephaly (unusually small heads and brains) and Guillain Barre Syndrome, a rare neurological condition that causes temporary paralysis. The Washington Post reported that in the massive outbreak of Zika in Brazil, most of the infants born with brain defects were exposed in the first trimester. According to the Post, CDC officials believed the danger to the fetus could extend into the second trimester.
Public health officials around the globe have been taking the risk to newborns seriously. U.S. health officials have issued travel notices urging pregnant women to avoid two dozen Zika-infested countries in Central America, South America, and the Caribbean. Last week, the CDC issued new guidance to help practitioners determine when to perform blood tests for possible Zika exposure, and the combination of ultrasound and amniocentesis testing that pregnant Zika patients should undergo. Several Latin American countries even took the unprecedented step of advising women to avoid pregnancy until at least 2018.
Without a vaccine for the Zika virus, most of the effort to curb the virus has focused on preventing transmission of the virus, either by encouraging people to use more insect repellants, or killing the mosquitoes that could carry the Zika virus. In the meantime, a World Health Organization emergency committee announced plans to meet in Geneva to decide whether to consider Zika a global health emergency, according to the New York Times.
A WHO decision to declare Zika a global health threat could actually be great news in an otherwise bleak picture. Speaking to the Times, several health experts pointed out that elevating Zika to a global emergency would unlock a much-needed flood of international attention, funding, and research toward a vaccine or cure.
And in a disease as terrifying as Zika is for mothers and babies, better understanding and treatment options could make all the difference — no matter which trimester the virus is detected.