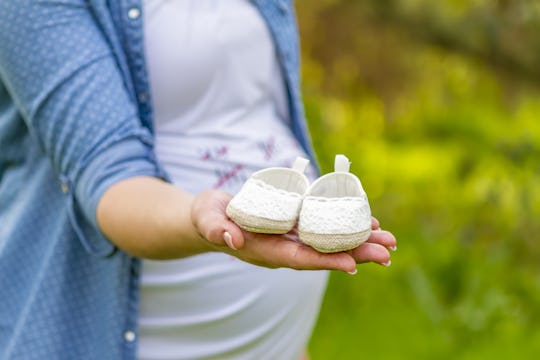 manaemedia/Fotolia
When To Announce Your Pregnancy On Facebook & 5 Cool Ways To Do It
I'm not one for trends, but I can really get behind cute pregnancy announcements. At the airport last week, I saw a couple holding up a sign that said "Welcome home, Grandpa," and when the woman's father saw it as he came through the gates, he burst into tears. It was such a sweet pregnancy announcement and I found myself getting all choked up. Gone are the days of simply telling your family. Now it requires a cute plan as well as a fun Facebook update. But when should you announce your pregnancy on Facebook? Is there an Emily Post etiquette rule for this?
Let's be honest, nothing's official until it's Facebook official, right? I mean, are you really even engaged if you don't update your relationship status? The world loves a cute pregnancy announcement and you can't leave your social media profile out of the fun. But when should you do it? Is there a hard and fast rule to posting your freshly peed-on pregnancy stick for your high school classmates, co-workers, ex-partners, family, and that one girl you shared a cabin with during the summer of '96?
Well, there are a few rules. First of all, nobody wants to see your pee stick. Especially when the little beads of pee are still seen on the cap. Second of all, it's your pregnancy announcement — you can announce it whenever you want. Some people are ready to shout it out the minute they discover the news, others like to wait until they're out of the first trimester, and some prefer to show a picture of their newborn and call it done.
But if you need a timeline, there's one important thing to note about the timing of your Facebook pregnancy announcement — it's best to tell your close family and friends first. Nobody wants to find out that their future grandchild is on its way via Facebook, and you can seriously hurt some loved ones' feelings if they know only because their news feed refreshed. It's your pregnancy announcement, absolutely, but wait until after you've broken the news to the important folks (and make sure they keep their Facebook statuses closed to the news, too) to hit post.
And now? Now it's time to announce! A status update with a baby emoji always works (as does a simple "I'm pregnant!", obviously), but if you want to break your Facebook feed harder than a nude of Kim K, here are five cool ways to announce your pregnancy on Facebook.