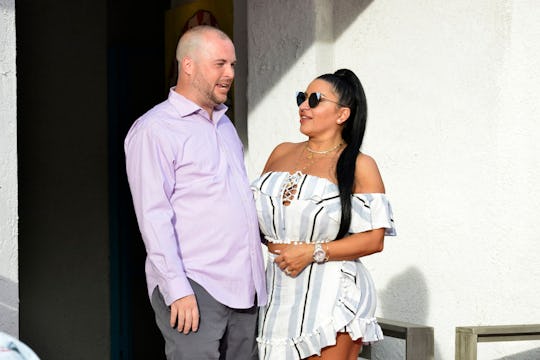 Jerod Harris/Bravo
MJ's Wedding On 'Shahs Of Sunset' Is Going To Be Memorable
A few seasons ago, Mercedes "MJ" Javid didn't seem like the type who would ever get married. Flash forward to Shahs of Sunset Season 7 and her wedding to fiancé Tommy Feight will be one of the big events of the season. Since it was all filmed months ago and there aren't many wedding photos on her Instagram, fans are probably asking, when was MJ's wedding on Shahs of Sunset? It turns out she was married several months ago. In April, to be exact.
Us Weekly reported that the couple exchanged personal vows and that fellow Shahs of Sunset star Reza Farahan was MJ's man of honor. At the reception, MJ changed into a couture jumpsuit, because of course she did, and Tommy wore sneakers with his tux as they took to the floor for their first dance as man and wife. It honestly sounds incredibly sweet and adorable for the couple — who genuinely seem like the real deal. And even though there was a shot in the Season 7 trailer of MJ saying that she could cancel her own wedding, things obviously went as planned and she and Tommy are still enjoying wedded bliss together.
In May, a month after their wedding, MJ and her new husband talked about life after marriage in an exclusive Bravo video. By all accounts, they sound like the most normal newlyweds ever, and it makes you love MJ just a little more. She explains in the video that Tommy took a week off work at the beginning just so that they could enjoy being married away from distractions and away from the everyday world.
"The best part about getting married is not just getting married, but also spending a week letting it sink in and just being together," she says in the video. "And we vegged out a lot and we watched movies and it was nice." She also says that she "started being that annoying person that answers text messages in 'we,' and I'm so ready to get sh*t from everybody. But I love it." At the end of the video, MJ says, "Time to make a baby," before it cuts off. So maybe Shahs of Sunset fans will get to see parenthood as the next big adventure for MJ.
Months before the wedding, The Daily Dish spoke to MJ about her future plans to start a family and she made it clear that having a baby was always in the cards for them. "It's not on the back burner. We're planning to go for it," she said at the time. "Unless something goes wrong, we will be pregnant. God willing."
And shortly after the wedding, MJ posted a video to her Instagram stories in a hospital gown. In the video, which has since expired, she said that she was undergoing surgery to make sure that her uterus was ready for a baby. MJ didn't go into further detail than that, but clearly, a baby is the plan.
Right now, it doesn't look like MJ is expecting, but she and Tommy do seem like they're still enjoying life as newlyweds. Like I said, I wouldn't be surprised if starting a family was their main storyline next season. And soon enough, viewers will get to see the wedding play out this season on Shahs of Sunset in all of its over-the-top Shahs-worthy glory. But not before a little drama, of course.