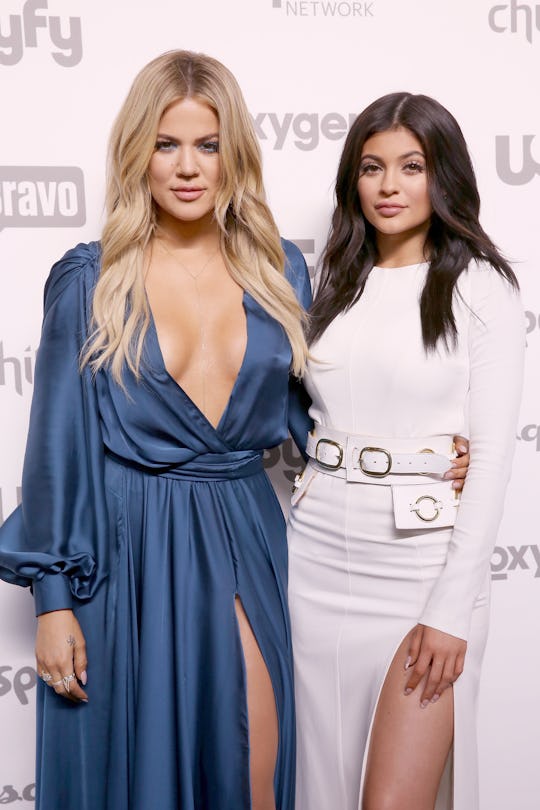 Robin Marchant/Getty Images Entertainment/Getty Images
People Are So Puzzled About The Timing Of The Kardashians' New Calvin Klein Ad
The Kardashian-Jenner sisters took to Instagram on Wednesday to share breathtaking videos and pictures from the Fall 2018 Calvin Klein underwear campaign. And the shoot — featuring Kylie Jenner, Khloé Kardashian, Kourtney Kardashian, and Kendall Jenner — is causing quite the stir on social media for an unexpected reason. Essentially, fans can't help but notice Khloé is visibly pregnant in the spread while her little sister, Kylie, is not. Considering the sisters gave birth two months apart, it's reasonable for fans to question the timing of the project. So, when was the Kardashians' new Calvin Klein ad shot? Kardashian Sleuthing 101 is now in session.
It's no secret the Kardashians have a long history with the Calvin Klein brand. Kendall has modeled for the brand extensively, for example, and the sisters took part in the label's Spring 2018 "Our Family #My Calvin's" campaign. And speaking of the Spring 2018 photoshoot, fans might remember it was published in January, just one month before Kylie gave birth to little Stormi Webster. At the time, Kylie's pregnancy was not yet public, and she covered up her bump with a checkered quilt. Kylie's attempt to throw fans off didn't necessarily work — in fact, many people took the conspicuous cover up as confirmation of her pregnancy. It's not like Kylie to fade into the background, after all. Girl is an outgoing Leo through and through.
Well, it looks like the Fall 2018 campaign is also generating a lot of buzz and speculation on social media. Apparently, people are really thrown off by Kylie's lack of a noticeable bump in the photos.
"How is Kylie not showing in this picture she was pregnant farther along than Khloé," someone commented on a pic from the spread on Instagram.
"Wait .....wasn't kylie pregnant that time?" a commenter asked.
"I'm so confused by this. Wasn't Kylie pregnant the same time as khloe?" another fan wondered. "Their babies are only a few months apart
"Wait shouldn't Kylie be pregnant if she was pregnant first then her sister??" a commenter chimed in. "I'm so confused."
Although it's reasonable for fans to be puzzled here (Kylie is holding the same quilt from the Spring 2018 shoot in the pic), the answer to all of the speculation is pretty straightforward. The shoot took place after Kylie gave birth and when Khloé was eight-and-a-half months pregnant. So, I'd say the ad was shot sometime in March.
Khloé confirmed the timeline in a comment to People, revealing:
I think we were all a little more comfortable this time around, but shooting for Calvin Klein is always a little bit intimidating. Shooting in underwear at eight-and-a-half months pregnant is even more intimidating.
Ah, thanks for clearing this one up Khloé — Kardashian Kase closed.
Although Khloé and Kylie chose to approach the ads differently during their pregnancies, I bet they both appreciate the special memories they made working with Calvin Klein. One day, Khloé and Kylie can share these beautiful ads with their daughters.
Khloé touched on the sentimental aspect of the Fall 2018 shoot in an Instagram post, explaining to fans:
Being in a @calvinklein campaign has always been a dream but shooting one with my sisters and being almost nine months pregnant is so special to me! I have this magical moment in time documented forever. Thank you Hrush for capturing these moments!!! I miss my tummy now. #MyCalvins.
Aww. It's cute Khloé is nostalgic for her bump, a sentiment I bet many parents out there can relate to.
So, here's to the Kardashians' nabbing two Calvin Klein campaigns in 2018. Although the ads are a bit confusing given Khloé and Kylie's pregnancy timelines, the sentimental value of both campaigns is obvious.