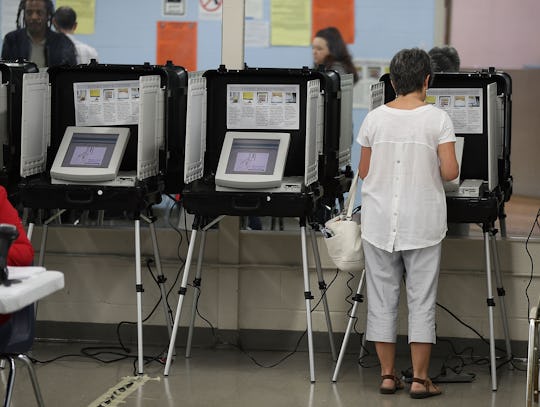 Joe Raedle/Getty Images News/Getty Images
About The Last Time Georgia Held A Special Election
President Donald Trump, who probably should be busy with other things, has been lighting up Twitter again with a few little rants. What could he be ranting about this time, you ask? The special election happening in Georgia to find a replacement for Health and Human Services Secretary Tom Price's seat in Georgia's 6th District. Why is Trump so caught up in one small election in Georgia? I mean, for a lot of people, it's difficult to even remember when the last special election in Georgia even happened. But this time around, that one seat in Congress could have a serious impact.
The governor of Georgia was required to call a special election after Price resigned his seat to take over as Health and Human Services secretary. This special election will look rather different in Georgia, as it will be a "jungle primary" with a full 18 candidates. This time around, Republicans are heavily featured over Democrats (11-4). Essentially, this special election is a "winner takes all" situation; If one of the candidates manages to pull in 50 percent of the vote on Tuesday, the election is won. If not, the two top candidates will have to battle it out in a June run-off election.
In the last special election held in 2015, 12 seats were vacant and needed to be filled. The majority went to Republicans (49-38). The sixth district in the Atlanta suburbs of Georgia has long been a stalwart Republican district; Newt Gingrich held his seat there on his way to becoming Speaker of the House in the 90's, and Price represented the district from 2005-2017.
All of that could change with Jon Ossoff, a 30-year-old filmmaker and congressional staffer who seems to be the odds-on favorite as the only candidate who could potentially win the election outright. And President Trump isn't happy about it. Trump fired off a series of tweets about Ossoff in the hours leading up to the election. "Democrat Jon Ossoff would be a disaster in Congress," Trump wrote. "VERY weak on crime and illegal immigration, bad for jobs and wants higher taxes. Say NO."
So what is it about a potential Ossoff victory in one district that has President Trump running scared? Well, for one thing, a decisive win for Ossoff could inject some desperately needed enthusiasm in the Democratic Party; in fact, Ossoff has already been getting considerable support from Dems across the country, raising $8.3 million in campaign funds in just three months. A Twitter hashtag #FlipThe6th has gotten a huge following in the weeks leading up to the special election, with celebrity endorsements from people like Mandy Moore and Samuel Jackson sharing their support for Ossoff.
If Ossoff manages to win the Congressional seat in the Georgia special election outright, it would certainly be seen as a symbolic victory for the embattled Democratic Party. Particularly considering the longstanding tradition of a Republican-heavy representation for the state.
But perhaps most importantly, a victory for Ossoff is a sign of hope for the coming years in politics — because as President Trump knows all too well, Ossoff might just be the first of many Democrats to make their way to Washington and help balance the Hill.