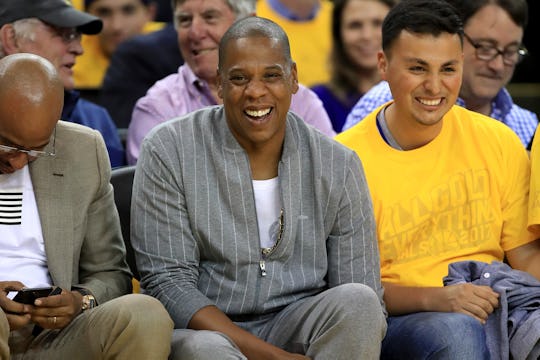 Ezra Shaw/Getty Images Entertainment/Getty Images
Will JAY-Z's New Album Be On Spotify?
In case you haven't seen enough news lately about goddess Beyoncé and her husband, rap mogul JAY-Z, there's even more going on for the couple now, aside from the reported birth of their new twins. Of course, the two new bundles of joy are probably more important than JAY-Z's new album (which was announced in a series of mysterious billboards and videos over the past few weeks), but hey, parent's have gotta make money somehow. So, when will 4:44 be on Spotify? The rapper's highly-anticipated new album will be the talk of the town.
So far, 4:44 has a June 30 release date, but that's only for Tidal. For all other streaming services and platforms, the dates are still a bit unclear.
If you'll remember, internet users were a little confused when billboards, posters, and online banners with "4:44" printed on them seemed to pop up out of nowhere a couple of weeks ago, all across New York. Then, soon enough, as Variety reported, JAY-Z "confirmed that it [was] the title of his new album, out June 30 and available exclusively to Sprint customers and existing Tidal subscribers."
In other words, unfortunately for those without a Tidal subscription, it doesn't seem like the new album will be making its way to any other streaming services for a while.
JAY-Z hasn't released a new album since his 2013 Magna Carta Holy Grail, so fans are definitely ready for some new jams. Since JAY-Z launched Tidal back in 2015, the streaming service has been the go-to platform for much of the hip-hop and R&B artist community.
In fact, JAY-Z's partner in crime, Queen Bey, released her 2016 mega visual album, Lemonade, exclusively to Tidal (though she debuted the visual album in an exclusive HBO event as well), and it has yet to be released to Spotify or Apple Music, a year later. So, it's possible that JAY-Z's new album won't be on Spotify ever, though fans will probably still be able to purchase it later on iTunes.
But really, there hasn't been a lot of news about JAY-Z's new album, so there are a lot of unknowns. For all anyone knows, JAY-Z could decide to shake things up and release his album to Spotify after the initial Tidal release.
For now, the only thing that's official is that 4:44 will be released only to Tidal on June 30; The rest of the world will just have to wait to see what all the fuss is about.