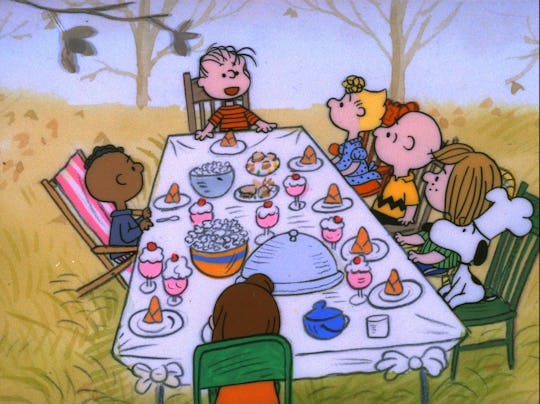 Lee Mendelson Film Productions
When Will 'A Charlie Brown Thanksgiving' Be On? The Classic Film Is On Its Way
When it comes to the holidays, Charlie Brown specials are always a favorite. From Halloween through to Christmas, Charlie Brown has been a family favorite for over 40 years, and as Thanksgiving quickly approaches people are wondering when A Charlie Brown Thanksgiving will be on TV. Thankfully fans won't have to wait long to see it. The special will air on ABC on Wednesday, Nov. 23 at 8 p.m., the night before Thanksgiving, putting everyone in the perfect holiday mood. Whether you've seen it multiple times or this is your first time seeing it, trust me when I say it's the perfect cartoon for this festive time of year.
Starring all the original Peanuts characters, including the hilarious Snoopy, it's a fun cartoon for kids and adults alike. In the special, the ever-bossy Peppermint Patty invites herself and her friends over to Charlie Brown's house for Thanksgiving where they attempt to have a Thanksgiving dinner with Linus, Snoopy, and Woodstock. Naturally things don't go as planned and hilarity ensues.
Just like with all the Charlie Brown specials, A Charlie Brown Thanksgiving was written and created by the Peanuts comic Charles M. Schulz, who passed away in February 2000. It was also directed and produced by Bill Melendez. A Charlie Brown Thanksgiving first aired back in 1973 and has continued to be aired year after year since people never grow tired of the Peanut gang's antics.
If you can't wait to watch A Charlie Brown Thanksgiving, there's plenty of other ways to watch the special. The DVD is available for purchase or you could watch the full half-hour special on YouTube. However you choose to watch, though, you won't want to miss out on this fun special.
After watching the special, you can switch over to NBC on Thanksgiving Day to see the Charlie Brown balloon in the 90th Anniversary Macy's Thanksgiving Day. In the past few years, it's been Snoopy that fans have seen floating past Macy's in the parade, but this year they're bringing Charlie Brown back and fans can't wait. And if you love Charlie Brown specials, you won't have to wait too long for the next one. A Charlie Brown Christmas is only a month later and it's a classic as well. You won't want to miss it!