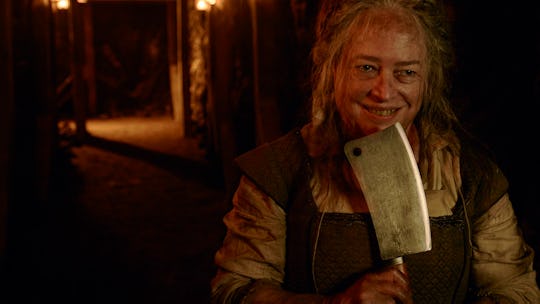 Frank Ockenfels/FX
When Will 'American Horror Story' Season 7 Premiere? The New Narrative Is To Be Explosive
Before you can say "Croatoan," Season 6 of American Horror Story will be over and fans will have to wait another year or so to be terrified in their homes all over again. So when will American Horror Story Season 7 premiere? If history has taught fans anything, it's that AHS is typically a fall show that usually premieres in early October, though, this year Ryan Murphy shook things up a bit not only with the unique and mysterious theme, but also by unleashing the season upon viewers in mid-September, a series first. But assuming Murphy goes back to the usual format, then I'd bet that fans of the anthology will be seeing its return sometime during the early October time slot.
Before Season 6 began, Murphy told Entertainment Weekly that he was considering doing both a spring and a fall show in 2016 and while it's clear that they decided against that idea this year, there's always hope that 2017 will work out a bit differently. Still, nothing has been confirmed or even hinted at that suggests Season 7 will be airing in the spring, so before you start celebrating with your Twisty masks and rubber Butcher cleavers, take a seat and relax as you wait for Season 7.
With Season 7 of AHS likely not premiering until the fall of 2017, there will be plenty of time for speculation on what the new season could bring and tons of opportunities for super fans to read too much into every detail of AHS: Roanoke. You really can't blame them though, as each season is said to be inspired by the preceding one, but Murphy has also said that Season 7 might be a bit different.
According to Vanity Fair, Murphy hinted that after this season, there are going to be stories that will continue to change everything and that "you'll see it explode in Seasons 7 and 8." He also let it be known that, like Season 6, the flow and narrative of Season 7 of AHS will be different, but in a good way. At first, fans were taken aback by the format of AHS: Roanoke, but look at how well-received it has been all season long. It's not outrageous to expect Season 7 to follow suit in that respect, then.
There has been no official release date for Season 7 of AHS just yet, but the important thing is that it was renewed and fans can expect something crazy from Murphy, as per usual.