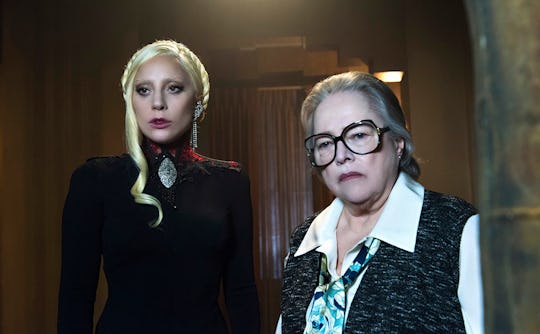 FX
When Will 'AHS' Season 7 Premiere? The Series Could Break With Tradition
Even though Season 6 of American Horror Story isn't quite over yet, fans are already asking: when will American Horror Story Season 7 premiere? And honestly, we can't really blame people for wondering about the next installment of Ryan Murphy's popular anthology, given how frequently news seems to come out about the series on an almost daily basis. Most recently, we've learned that there will be a future crossover season of AHS that combines a new season of both Murder House and Coven together. And while that's not going to take place in Season 7, it just makes everyone that much more curious about when Season 7 of AHS premieres and what it's going to entail.
Instead of hitting your typical Season 6 or Season 7 slump in a TV show, AHS has succeeded in making each season fresh in its own way. AHS: Roanoke has continued with that tradition, giving some fans a renewed interest in the show (within a show), who may have been losing touch. That being said, we can only hope for similarly shocking and surprising seasons from here on out, and as far as Season 7 goes, we now know that the theme, at least, will be revealed some time in the Spring of 2017.
Season 6 of AHS is slated to last just 10 episodes, which is two or three less than we've been used to in recent year, prompting many fans to wonder/hope/pray to the Gods that this will mean Season 7 is premiering earlier than usual. But if the history of AHS is any indication, we're actually right on track, despite the slightly shorter season.
In past seasons of AHS, the show has premiered in October, announced the renewal of a new season in November, and revealed a specific theme the following spring. Thus far, that seems to be the general plan for Season 7 as well. The show may have launched a little earlier than usual in September, but that doesn't necessarily mean we'll get a new season faster than usual.
By all accounts, that's probably not what anyone wants top hear, but Ryan Murphy spoke to Entertainment Weekly about the upcoming season and although there were little details he couldn't spill just yet, he did say that it will continue in the different sort of scope as Roanoke has and that "it's also a narratively strange idea."
Murphy also assured TVline in a separate interview that although Season 7 won't be nearly as secretive and mysterious as Season 6 has been, it will have a similarly shocking twist that viewers can look forward to.
Like all of the seasons before, it seems that Season 7 of AHS will premiere in the fall of 2017. Of course if fans had it their way, we would end one season in December and begin another in January, but genius takes time, people. Then again, it was just back in 2015 that Murphy teased Entertainment Weekly with the possibility of creating two seasons of AHS in one year. "Next year we might do a fall American Horror Story and a spring," Murphy told the outlet. "We have to decide." But just because it didn't come to pass in 2016 doesn't mean 2017 is out of the question. Your move, Murphy.