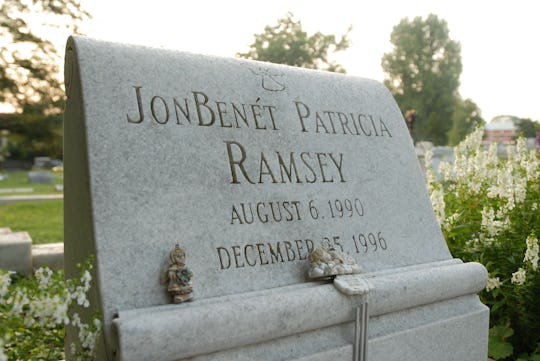 Barry Williams/Getty Images News/Getty Images
A New JonBenet Documentary Is About To Hit Netflix
Following a slew of documentaries this year that marked the 20th anniversary of 6-year-old JonBenét Ramsey's murder, it was announced on Wednesday that Netflix will exclusively debut the documentary Casting JonBenét. The documentary, from director Kitty Green, is slated to premiere at the Sundance Film Festival this winter and has been described as "a sly and stylized exploration of the world's most sensational child-murder case," according to Entertainment Weekly. The streaming service has scooped up the exclusive rights to the film once it hits the market.
The documentary is supposedly a new look at the coverage of the murder case in the media. "Kitty boldly embraces the tradition of innovative risk-taking within the documentary filmmaking mode with her remarkable work on Casting JonBenét," Netflix vice president of Original Documentary Programming Lisa Nishimura told Variety.
"Netflix is the ideal home for showcasing Kitty's sharply-rendered vision of a mythic American tragedy to a global audience, on the occasion of the 20th anniversary of the crime," Nishimura added.
The documentary will be the first time a non-fiction film premieres at the Sundance Film Festival. It's kind of a big deal (even though the doc is already slated for a limited theater release in addition to the Netflix buy).
The doc is reportedly a more in-depth look at how the murder case affected people overall. Shot over 15 months, the film focuses on the Ramsey's hometown in Colorado and how the aftermath of the murder and its coverage affected the residents of the small town. So if you're thinking that you don't need any more information or hour-long exposes that reveal nothing new about the Ramsey case, this might still interest you.
This year, there have been a handful of "new looks" at the JonBenét Ramsey murder case, but they've all sort of rehashed the same old theories that this new documentary is reportedly trying to avoid. This fall, CBS aired a six-part docu-series called The Case of: JonBenét Ramsey and A&E had a two-hour documentary special, The Killing of JonBenét: The Truth Uncovered. Lifetime also had a made-for-TV movie called Who Killed JonBenét? this year.
It's totally reasonable to feel like you're overdosing on JonBenét murder theories. But this new film seems like it might offer some added context to viewers who care about the Ramsey investigation.
The murder of the 6-year-old has captivated people all over the world, and figuring out what actually happened to her seems fruitless on so many levels. Maybe it's better to leave the investigation up to authorities, and leave the storytelling to filmmakers like Green. At least it's a new perspective.