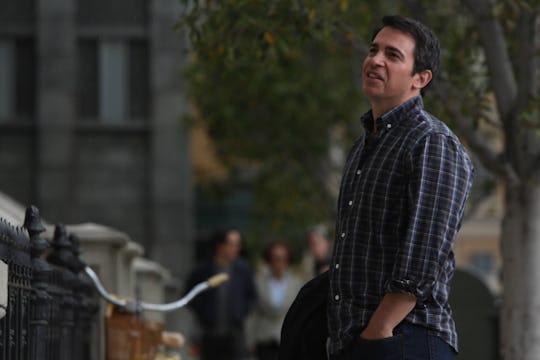 Jordin Althaus/Hulu
Danny's Return To 'The Mindy Project' Isn't Far Away
The Mindy Project returned to Hulu on Tuesday for its shortened final season and Mindy Lahiri has come a long way in six seasons. It's safe to say that she wandered off the beaten path of her cookie cutter rom-com fantasies, but she's finally stable, balancing career and baby Leo as she sees fit, and married to Ben. But Leo's dad and Mindy's co-worker Danny has been MIA for the better part of a season, so fans may be wondering: when will Danny return to The Mindy Project? Well, there's good news and bad.
The good news is that Danny is definitely slated to appear in Season 6. The bad news is, there are only 10 episodes to redeem him from his atrocious behavior during all of Season 4. After Mindy gave birth, Danny embarked upon a series of deeply unlikable choices, prompting some to wonder whether they were making his character so unbearable that fans wouldn't care if Chris Messina was being written off to pursue a movie career. In Season 5, he was downgraded from a series regular to a recurring guest star, which at least pivoted us away from Evil Danny. But he's back for Season 6, and series co-star, writer, and producer Ike Barinholtz teased what fans can expect from Danny and Mindy's dynamic in the final season.
He told Variety that Season 6 picks up after a slight time jump, with Mindy married to Ben and realizing that marriage maybe isn't what she was expecting. So viewers see Mindy navigate a relationship with someone who isn't necessarily "The One," but is super stable, while simultaneously navigating a co-parenting relationship with Danny, who probably is the most passionate relationship of her life, but definitely isn't romantically sustainable. Said Barinholtz:
Danny and Mindy's relationship has evolved into one where they get along and they share this huge responsibility in taking care of Leo, but what I've been excited about when it comes to Danny and Mindy this season is seeing how far they've come. They were everything to each other, and then it all exploded. Now that the dust has settled, seeing where they're at, it's really interesting. Mindy and Danny are two people that are always somewhat in love with each other. They always will [be], whether they end up together or not. I think they might be 'The One' for each other, which is why it's exciting to see them interacting, though they're not currently in a relationship.
He wouldn't definitively answer whether Mindy and Danny get back together, but it seems like it won't really matter either way: "if they end up together, great because we've seen them together, but if they don't end up together, we see how they are now, and that's pretty good."
It's a far cry from the Danny of Season 4, who accused Mindy of being selfish for wanting to go back to work after having Leo — this from the dude who refused to marry his pregnant girlfriend, later got engaged to a woman he'd been dating for a few months, and then cheated on her with Mindy while they were stuck in an elevator. Later, Danny decided that Mindy seduced him (?!?!), refused to take any responsibility, suggested they have sex again, and then when they don't, decided not to tell his fiancée about the elevator sex. So, for many, losing Messina for virtually all of Season 5 was no big loss.
Hopefully his return is as mature as Barinholtz promises, whenever it is that he eventually pops up — though if IMDB is to be believed he's credited as being in Episode 4 of this season as well as Episode 9). It seems like the most triumphant ending for Mindy will be to find a place for him in her life where they can acknowledge and enjoy their chemistry without ever falling back into their toxic romantic relationship.
Check out Romper's new video series,Romper's Doula Diaries: