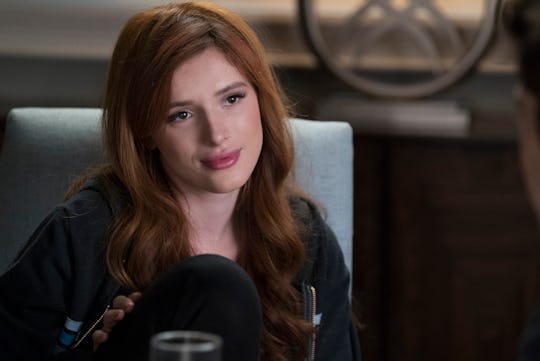 Eric McCandless/Freeform
There Are Many Ways To Stream 'Famous In Love' Season 2
Famous in Love is one of those shows that's perfect to stream in one go so you don't miss a minute of all that soapy drama. The first season was made available all at once by Freeform, but the second season aired week to week, which made it a little more difficult to keep track of. Now that it's over, it's the perfect time to treat yourself to a marathon. So when will Famous in Love be on Netflix?
Unfortunately, it doesn't look like the series will be making its way to Netflix any time soon. Though many Freeform shows are available on Netflix, like Pretty Little Liars and The Fosters, Famous in Love has never had a spot on the streaming platform. Its first season never made the jump, so it seems unlikely that its second season will either. That has been the case with a few other shows from the network, too: the now-cancelled Beyond was initially released the same way Famous in Love was and it never showed up on Netflix, and the weekly series Shadowhunters is only available on Netflix abroad.
But just because you can't put it in your queue doesn't mean you can't find a way to watch Famous in Love. There are other options for fans of the show who are looking to catch up.
If you have a Hulu subscription, then you're in luck: both seasons of Famous in Love can be found there. It seems like Freeform might have struck different deals with Netflix and Hulu, because many of the shows that aren't available on the former can be found on the latter. If you're not subscribed to Hulu, then you can always snag a free trial to see if you like it before committing to a plan. It's an easy way to watch Famous in Love over and over again.
But perhaps Hulu just isn't the platform for you, for whatever reason. If that's the case, then there are still a few possibilities to explore. You can pay for Famous in Love Season 2 on several platforms, including iTunes, Amazon, Vudu, Google Play, and YouTube; prices vary, but episodes are usually $1.99 with season passes in the $20 ballpark, give or take a couple of bucks.
If you'd rather avoid paying for the show altogether, then Freeform has the perfect solution. You can watch every single episode of Famous in Love for free on their website. It doesn't seem like you even need to enter your cable provider, though you may be prompted to create a free account. It may not be as effortless as opening up Netflix and hitting play, but it still gets you your fix of Paige's faux-Hollywood shenanigans.
The show's future is in question because it has yet to be renewed for Season 3, but you'll still want to be totally caught up in case it does come back. The second season ended on quite the cliffhanger, with everyone's romances in shambles and several characters' lives on the line. Tangey and Jordan were caught up in an altercation with Pablo that might have been fatal, while Alexis was stuck on a seventy-two hour hold, and Paige was contemplating leaving the movie business behind for good.
If the show does return, it will likely be in April of next year; the first two seasons both premiered around then. That gives you plenty of time to make your way through all twenty episodes of the series more than once, on whatever streaming service you choose. It might not be possible to watch the show on Netflix, but you've got so many other choices that you won't be without Famous in Love for long.