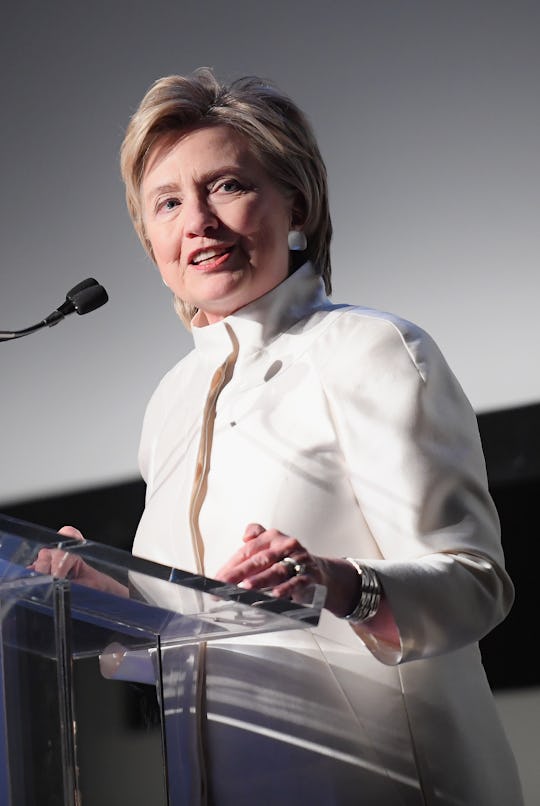 Dimitrios Kambouris/Getty Images Entertainment/Getty Images
Here's When You Can Get Your Hands On Hillary Clinton's New Book
I remember following the 2016 presidential election. I remember staying up until the wee hours of the morning, watching the numbers trickle in and slowly realizing who was about to become the 45th President of the United States. And I remember thinking, What happened? I wasn't the only one asking that question, and now it seems former Democratic nominee Hillary Clinton is going to answer that for us. Quite literally. What Happened, Clinton's memoir about the election, will be hitting the shelves soon, and honestly I can't wait to get my hot little hands on it.
Clinton has a long, rich history in politics she could have mined for her book. She was the first lady when husband Bill Clinton was president, she acted as secretary of state for President Obama, and was a senator for New York. Despite all of this time spent under the microscopic lens of the public eye, Clinton has remained intensely private (particularly in the months since President Trump was elected), some might say even to her detriment. So the news that she had written a tell-all account of the 2016 election, which will officially hit stores on Sept. 12, came as something of a pleasant surprise.
But why now? Well, it seems she's finally ready to open up to the public, for better or for worse. In the book's introduction Clinton wrote, according to a statement released by the book's publisher Simon and Schuster:
In the past, for reasons I try to explain, I've often felt I had to be careful in public, like I was up on a wire without a net. Now I'm letting my guard down.
I don't even know if I'm ready for this, guys.
The book is expected to follow Clinton's journey to become the first female presidential nominee for a major party in American history, through to her disappointing November 2016 loss to New York real estate developer and reality TV star Donald Trump. Simon and Schuster told CBS News that What Happened "describes what it was like to run against Donald Trump, the mistakes she made, how she has coped with a shocking and devastating loss, and how she found the strength to pick herself back up afterwards."
During a commencement speech for the graduating class of her alma mater, Wellesley College, in May, Clinton opened up a little about what the last eight months have looked like for her. During her frank, funny, and passionate speech, she spoke of spending the majority of her time with her grandchildren, taking solace in "long hikes," and admitted she might have gotten "a little help from chardonnay." As for the election:
You may have heard things didn't go exactly the way I planned... but I'm doing OK.
It seems, after a little reflection and consideration, Clinton is back. She is that Weeble that wobbles but won't fall down. Ready to fight the good fight, to take her lumps (of which there are many), and move forward in the face of a loss that might have emotionally crippled a lesser person. Her detractors might not be excited, but for those of us who still picture her in her white pantsuit, standing under that glass ceiling she was prepared to shatter back in November... welcome back, Hills.