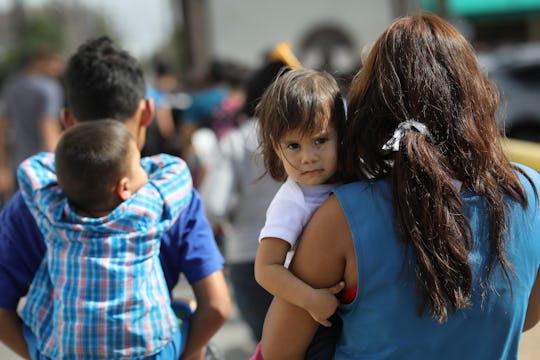 John Moore/Getty Images News/Getty Images
A Federal Judge Has Handed Down A Hard Deadline To Reunite Immigrant Families
The Trump administration's highly-controversial "zero tolerance" immigration policy at the southern border has left much of the country shocked and outraged — particularly as it reportedly led to over 2,000 children being separated from their parents and placed in government shelters. Public pressure finally led President Donald Trump to sign an executive order on June 20 to stop the practice, but when exactly will immigrant families be reunited?
A federal judge in California issued a nationwide order on Tuesday that requires all separated children under 5 years old to be reunited with their parents within 14 days, and all remaining children reunited within 30 days, according to CNN. But that's not all; as CNN reported, the court order also stipulates that all parents must be allowed to contact their separated children by phone within 10 days; that federal officials must stop separating families entirely, unless there is evidence that the parents are unfit or pose an immediate danger to the child's well-being; and, importantly, that adults may not be deported from the United States without their children.
The lawsuit, which was filed by the American Civil Liberties Union (ACLU) prior to Trump's executive order, is an important step in the fight for separated immigrant families. Because while the president's order specified that family separation would no longer continue, according to the Chicago Tribune, the administration hadn't actually addressed how it intended to reunite the children who had already been taken from their parents.
In his ruling, Judge Dana M. Sabraw criticized the administration's handling of immigrant families, according to The New York Times, and said that "under the present system, [immigrant] children are not accounted for with the same efficiency and accuracy as property."
Lee Gelernt, the ACLU's lead lawyer on the case, celebrated Sabraw's decision as a sign "that this humanitarian crisis is coming to an end," according to New York Magazine, and urged the Trump administration not to appeal the decision given that "the lives of these little children are at stake."
Even without an appeal though, those advocating on behalf of the separated families have voiced concern over the continued lack of information available about the children, according to NBC News, and how they'll be reunited with their parents. On Tuesday, according to CBS News, the U.S. Department of Health and Human Services said that 2,047 children who were originally separated from their parents as a result of the "zero-tolerance" policy currently remain in the care of the Office of Refugee Resettlement. Yet, Simon Sandoval-Moshenberg of the Legal Aid Justice Center in Virginia, told CBS News that most of their parents are still unaware of their whereabouts, or how to get in touch with them.
Charity groups in Texas have reported that federal authorities have given parents a 1-800 number to call and get information about their children, according to NBC News, but that it has largely remained unanswered. and in a recent interview with CNN, White House spokesperson Raj Shah said that, while the administration's goal is "to fully reunite as many families as possible," the process of actually doing so has been "complex."
So far, though, that seems to be an understatement: according to CBS News, only six children have reportedly left HHS custody since Trump signed his executive order a week ago.
Despite the challenges involved with reuniting immigrant families, Tuesday's ruling is still a big step forward to ensure it actually happens. While it's not clear at this time if the Trump administration intends to appeal the case, Sabraw's decision has now given concrete parameters and an specific deadline, which puts pressure on HHS to follow through to reunite families.
Of course, even with the reunification requirement, and the ruling that families must no longer be separated moving forward, or deported without one another, Trump's "zero tolerance" approach has already created a great deal of trauma for immigrant children, as one foster mom recently told CNN. And even without another child taken into custody alone, that's a reality that is beyond heartbreaking. But at the very least, Tuesday's federal court ruling is a sign that change is happening — and that, hopefully, this is just the beginning.