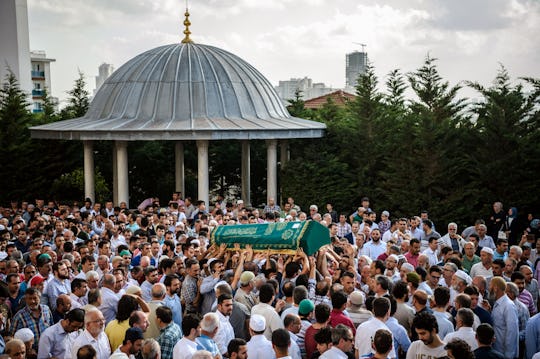 OZAN KOSE/AFP/Getty Images
When Will It Be Safe To Go To Istanbul? The City Is Still Reeling
The country of Turkey has long been a hotspot for tourists in the know. With it's particular blend of Eastern influence and Western charm, beautiful beaches and historic monuments (not to mention the world-class coffee), Turkey has drawn visitors from across the globe for centuries. After Tuesday's bombing at the Ataturk International Airport in Istanbul, however, many tourists are thinking twice about visiting the breathtaking city of Istanbul. If you're wondering when it will be safe to go to Istanbul again, you might not be getting good news any time soon.
When three suicide bombers attacked the Ataturk Airport around 10 pm on Tuesday, they killed 43 people and wounded 239 more. Ataturk International Airport is amongst the busiest in the world. While no terrorist group has come forward to claim responsibility for the attack, Turkish officials recently reported that the three suicide bombers were organized by ISIS leaders based in Russia, Uzbekistan, and Kyrgyzstan. Since the attacks, the airport has been reopened and flights have resumed. Most of the storefronts are open as well, which might signal business as usual to some. But is Istanbul, which was once the great city of Constantinople (the capital of the Byzantine Empire) really ready to welcome tourists back any time soon?
The United States Department of States issued an updated travel advisory to tourists considering travel to Turkey the day before the attacks. The advisory warned of terrorist threats (both foreign and domestic), and mentioned that U.S. Government Personnel working at the Consulate were subject to travel restrictions.
For your safety:
Avoid travel to southeastern Turkey, particularly near the Syrian border.
Stay away from large crowds, including at popular tourist destinations.
Exercise heightened vigilance and caution when visiting public access areas, especially those heavily frequented by tourists.
Stay away from political gatherings and rallies.
Follow the instructions of local authorities in an emergency.
Stay at hotels with identifiable security measures in place.
Monitor local media.
Turkey has seen a total of 14 terrorist attacks in one year, and the threat is considered ongoing. Ataturk Airport is open and flights between the United States and Turkey have resumed, passengers should expect delays. For passengers who have already scheduled flights to Istanbul between June 28 and July 5 but no longer feel safe after Tuesday's attacks, Turkish Airlines has offered rebooking or rerouting at no extra charge, refunds for unused or partially used tickets, and extension of ticket validity (as long as the request is sent to Turkish Airlines before July 31).
While there has been a marked decline in tourism over the last year in Turkey, according to the Turkish Ministry of Culture and Tourism (in May, there was more than a 34 percent decrease in tourism and the numbers continue to drop), Istanbul should remain on many a bucket list. Whether it's spices at The Grand Bazaar, the ancient Byzantium palace of Aya Sofya, or simply wandering aimlessly to find your own path, Istanbul is a must-see.
Let's hope the unrest ends, and the rest of the world will get another chance to enjoy Istanbul again in safety.