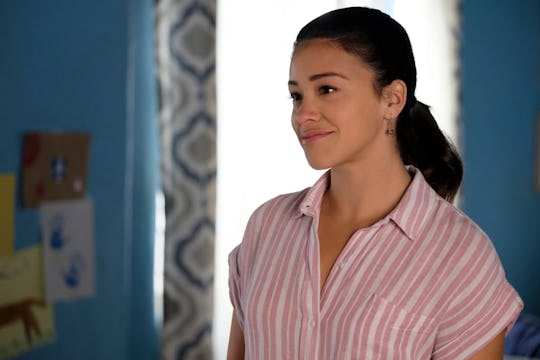 Tyler Golden/The CW
'Jane The Virgin' Season 4 Will Be On Netflix Sooner Than You Think
From the very first episode of Jane the Virgin, things were messy and complicated in a way that only The CW could produce on a dramedy. So it was no big surprise that Season 4 has been just as dramatic as ever, even if there's been some resolution as well. Since its 17-episode run is about to be over though, fans are definitely going to be wondering when Jane the Virgin Season 4 will be on Netflix. It is a CW program and the network made a very specific deal with Netflix a couple of years ago, so Season 4 will be available to stream at your leisure sooner than you might think.
In 2016, The CW and Netflix struck a deal so that the latest seasons of all CW-scripted shows would be made available on the streaming platform eight days after the latest season finale airs on TV. This means that for Jane the Virgin Season 4, fans can expect to see it on Netflix no later than April 28.
"For the past several years, the distinctive, high-quality shows we have been producing for the CW have proven their popularity across linear, on demand and digital properties here and around the world," Jeffrey Schlesinger, the president of Warner Bros. Worldwide Television Distribution said in a statement about the deal, as reported by Variety. "This new deal will provide consumers enhanced access to compatible programs like Supergirl and DC's Legends of Tomorrow, while increasing the value of both in-season rights on The CW and prior seasons on Netflix."
Lucky for Jane the Virgin fans, that deal is still in effect, which means you'll get to marathon the season all over again less than two weeks after the finale airs on TV.
In case you're not all caught up on the show or fell behind, this will be the perfect opportunity to get up to speed with everything going on. And yes, there was a ton that happened over the course of Season 4 that you cannot just skip it and head into Season 5 when it airs. Speaking of which, Season 5 will be the show's last, so there's no time like the present to make sure you know literally everything there is to know about the first four seasons.
Before the show was officially renewed for Season 4 back in April, Gina Rodriguez (Jane) referred to Season 5 as "our final season" at the Women to Watch day of panels from Create & Cultivate and Fossil in Austin, Texas. Then, executive producer Brad Silberling confirmed as much to Metro, so it's more or less a done deal. "Yes, we are heading into the final season," Silberling said, adding:
It is a wonderful final season of the show… It is exactly as it was laid out… [We've] always known when it was going to end. It will be 100 episodes when it's done and 100 is exactly where Jennie [Snyder Urman, creator and executive producer] always hoped it could end the story. So it's perfect.
If that's the case, then you'd do well to either rewatch or catch up with Season 4 of Jane the Virgin on Netflix starting on April 28. You might also want to go back and listen carefully to the sound of the beloved narrator, as it's been revealed in the past that before the series is over for good, his identity will finally be revealed.
Regardless, Season 4 will be available for marathon streaming soon enough.
Check out Romper's new video series, Romper's Doula Diaries:
Watch full episodes of Romper's Doula Diaries on Facebook Watch.