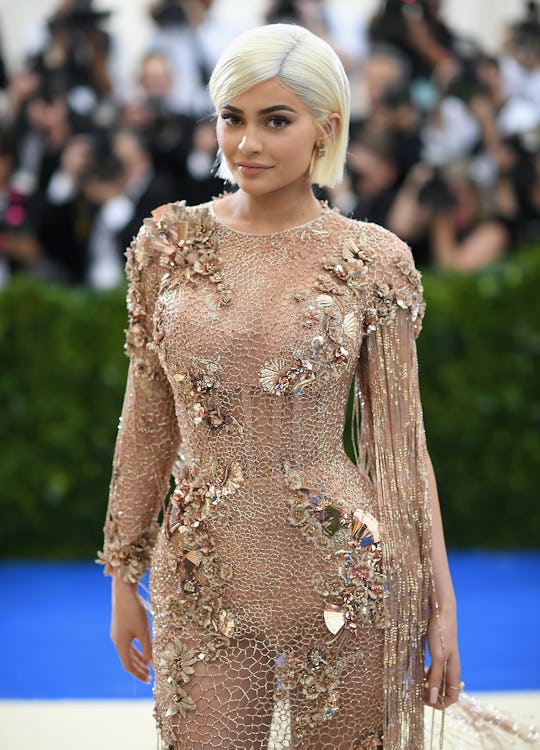 Dimitrios Kambouris/Getty Images Entertainment/Getty Images
Seriously, When Will Kylie Appear In The Kardashian Christmas Card?
It's officially Day 18 of the Kardashian Christmas card, and much to fans' frustration, Kylie Jenner has yet to make a single appearance. Unless you've been living under a rock, you're likely well aware of the many (unconfirmed) rumors that have swirled around since late September that the youngest member of the Jenner-Kardashian clan is pregnant. Jenner's absence from the yearly Kardashian Christmas card thus far has only fueled those rumors, leading fans to ask: exactly when will Jenner appear in the Kardashian Christmas card? Come to think of it, will she appear at all?
One fan theory, of course, is that Jenner and Khloé Kardashian (another sister who is reportedly pregnant but also has yet to confirm the news) will appear in full baby-bump glory as part of a Christmas card revealed near the end of the month — if not on Dec. 25 itself as a final surprise in the photo series.
Khloé has already made two appearances in sister Kim Kardashian's daily Christmas series, and she didn't seem to be rocking an obvious baby bump in either photo, according to fans. However, that doesn't necessarily mean that Khloé isn't pregnant or that she won't be appearing in a Jenner-Khloé baby bump reveal later on — it could just mean that the Kardashians shot their Christmas card photos before Khloé was showing.
Unlike Khloé, however, Jenner has remained entirely absent from both the Kardashian Christmas card reveals. In fact, she's managed to keep a pretty quiet profile altogether since news broke of her rumored pregnancy with boyfriend Travis Scott. Jenner hasn't confirmed the news, and unnamed sources told People in October that Jenner had decided to stay out of the limelight during her pregnancy.
So there are several options here, really. Number one? The Kardashians could be drumming up suspense for an eventual Khloé/Jenner pregnancy reveal later this month, a theory that many fans seem to be leaning towards (and definitely hoping for).
The second option, of course, is that Jenner is actually sticking to her guns and staying out of the public eye during her pregnancy, which means she might not appear in the Kardashian Christmas card at all this year (sorry, fans). After all, as that unnamed source reportedly told People:
Kylie prefers to stay home. ... At the moment, she wants more privacy. She has family and friends come to her house instead so she has company.
And the last option, as I see it, is that Jenner isn't pregnant at all (gasp) and this is all just a scheme brewed up by the Kardashian-Jenner sisters to drum up excitement for the next season of Keeping Up with the Kardashians. (As a cynic, this is my favorite theory, and I will secretly be very happy and kind of proud of the Kardashians if this turns out to be true.)
Regardless of what might be going on behind the scenes, curious fans are full of theories:
On her own Instagram account, Jenner has been posting pictures of her Kylie Cosmetics line, photos that focus on her face, and Christmas tree pictures where the decorations' reflections are mysteriously missing their photographer. (Could Jenner have had herself edited out of the picture? Is it yet another pregnancy clue? Will we really have to wait another week before we find out if Jenner is going to show up in the Kardashian Christmas tree?)
At this point, only time will tell, my friends. Take a deep breath, give the Kardashian-Jenner family serious props for their media manipulation, and then keep a close eye on Kim's Instagram account until Christmas day.
Check out Romper's new video series, Romper's Doula Diaries:
Watch full episodes of Romper's Doula Diaries on Facebook Watch.