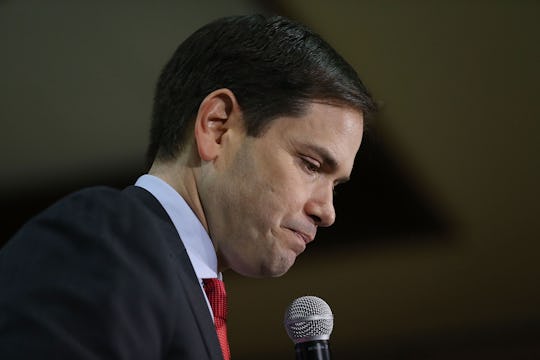 Joe Raedle/Getty Images News/Getty Images
When Will Marco Rubio Drop Out? He Refuses To Give In To Donald Trump's Punches
Things are not going very well for Florida Sen. Marco Rubio lately. On Tuesday, four more states held their presidential primaries, and not only did he not win in any of them, he came in fourth in Michigan and Mississippi, well behind Ohio Gov. John "Wait, That Guy's Still Running?" Kasich. We're far enough into the primaries and caucuses that a clear favorite has been established, and even Ben Carson, a man who rarely displayed any common sense during his campaign, has dropped out. Now voters are wondering when Marco Rubio will drop out of the presidential race.
As of Wednesday, sometimes-actor Donald Trump, who you may remember from Home Alone 2, had 458 of the Republican delegates on lock, more than one-third of the 1,237 needed to secure the GOP nomination. Coming in second place so far is Texas Sen. Ted Cruz with 359 delegates, followed by Rubio's paltry 151. One can't help but do the math and realize that, if all of Rubio's delegates had gone to Cruz instead, he'd be in the lead right now, instead of the man whose ideas former Massachusetts Gov. Mitt Romney called "ridiculous and dangerous" — a man who many believe is on track to destroy the Republican party from the inside.
Unfortunately, Rubio isn't backing down, at least not yet. Just last week, he told reporters, according to the Los Angeles Times:
We're going to be in this race as long as it takes. This is going to be a long campaign, and we are not going to hand our party over to a dangerous con artist.
So why isn't Rubio giving up? Well, first of all, he wants to be president, obviously. But there's also the element of pride. Next week is the Florida primary, and Rubio wants to prove that he can beat Trump in his own state, where he's already won an election. There's just one problem. According to a recent CNN poll, Trump is leading in Florida, and not by a little. Trump currently holds 40 percent of the Republican vote, while Rubio is polling at just 24 percent. With just six days to go, can Rubio really pull off a win?
According to CNN, some Rubio campaign advisers don't think so. "He doesn't want to get killed in his home state," a source told the news organization, adding that "a poor showing would be a risk and hurt his political future." It should be noted that Rubio's communication director, Alex Conant, denied the report, but this is CNN we're talking about, not The National Enquirer. CNN reported that Rubio's team was concerned that, if he's unable to secure the presidential nomination, and if he also loses in his own state, it could hurt his chances at a vice presidential bid or a possible run for governor in 2018. Plus, imagine how smug Trump would be if he beat Rubio in Florida. So damn smug. Just the smuggest.
Rubio's campaign is also hoping for a last-minute endorsement from former Florida Gov. Jeb Bush now that he's dropped out of the presidential race. Bush is reportedly a long-time friend and mentor of Rubio's, and many Bush backers switched to Team Rubio once Bush dropped out. And, of course, there's no way that Bush would endorse Trump. But the Rubio campaign told CNN that the pair have spoken three times since Bush dropped out, and Rubio has twice brought up an endorsement, and both times, Bush was "vague about his interest."
It seems inevitable that Rubio's team will eventually have to sit him down and break it to him gently that the Tooth Fairy isn't real, and also, Americans are unfortunately more interested in a Muslim immigrant-banning apricot than a junior senator who occasionally makes penis jokes. It's a hard truth to hear, but it's time that he learn it.