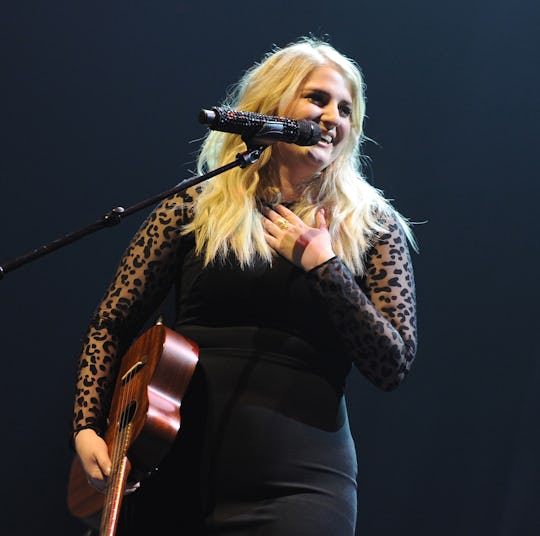 Joshua Blanchard/Getty Images
When Will Meghan Trainor's Next Album Be Released? Fans Are Waiting...
Meghan Trainor's debut album, Title, sold over a million records, according to Billboard, and the album's hit single "All About That Bass" earned her two 2015 Grammy nominations, one for Record of the Year and one for Song of the year. This year she's nominated for a 2016 Grammy for Best New Artist. So it's natural that fans are asking when Meghan Trainor's next album, Thank You, will be released.
Update: On the Grammys red carpet Monday night, when E!'s Ryan Seacrest asked when Trainor's new album will be released, Trainor answered:
I'm not sure if I'm allowed to say this, but March 4th... March... around March 4th... March 4th I think the preorder will start.
Unfortunately, there's no concrete answer to that question yet. At the beginning of February, Trainor told Fuse that she expects "No," the album's lead single, to drop next month. "I think March. I think the beginning of March. It's a hot minute away. We'll probably get a music video going," she said.
As for the album itself, Trainor told MTV in December, "It has a lot of big songs on it that I can't for the world to finally hear." She also told E! News in January, "[It's] amazing to finally wrap it up," she said. "It kills you to hold these songs from the world, it really does. Especially, one of my songs, it's called "Thank You," which the album is called, Thank You, and it's a song to my fans. I want them to hear it now but I have to wait."
So wait they will. But if "No" is dropping in March, seems like Thank You in its entirety can't be far behind.