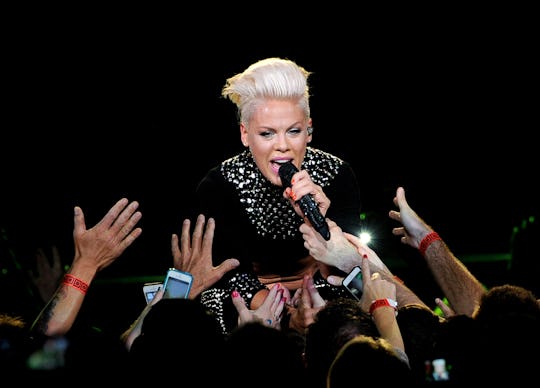 Kevin Winter/Getty Images Entertainment/Getty Images
Pink's New Album 'Beautiful Trauma' Can't Come Soon Enough
Pink revealed some pretty exciting news on Wednesday! According to Billboard, the 37-year-old singer's newest album, Beautiful Trauma, will drop in just a few months. But when exactly will Pink's new album Beautiful Trauma be released? Well, please raise a glass with us Pink fans, because you won't have to wait too long to hear her new work in its entirety.
According to Pink's Instagram, Beautiful Trauma will debut on Oct. 13, 2017. And considering that she just gave birth to a baby boy last December, this is an amazing feat that all fans and fellow moms can appreciate. The badass mom of two definitely deserves all the accolades and awards for her ability to multitask like a pro.
Pink's Beautiful Trauma announcement on Instagram read:
I could not be more excited right now. My single comes out today "what About Us" and my new album "Beautiful Trauma" comes out October 13th. I'm certifiably, insanely proud of this album. It's been a while, and I'm grateful for all the years we've had. Looking forward to the next chapter with you.
Yes, yes, and yes. A new album from Pink is the news America needed right now, especially since she is the epitome of a strong mom and woman. Hopefully Beautiful Trauma will be just as sassy as Pink is on social media. (And, if we're being real, it definitely will.)
Oh, and here's the album's fierce cover art:
Get it, Pink.
In case you've been keeping track, Pink hasn't released an album since 2012. Pink's last record, The Truth About Love, was released about a year after she gave birth to her first child, Willow. Hmm, does anyone else sense a trend here? As for why Pink waited five years to make this album, it's safe to assume she wanted some time to enjoy her two kids. Pink said, according to E! Online:
I love being a mama. I made a choice a long time ago that I was going to have a successful family and that is my absolute number one goal in life.
Well, you can't fault Pink for soaking up motherhood, right? It's hard to deny that Pink is an incredible mom.
Now that Pink has confirmed Beautiful Trauma's release date, her fans are totally freaking out:
Yep, it's safe to say Pink's fans are beyond amped about Beautiful Trauma's Oct. 13 release date.
For those of you who just can't wait until Oct. 13 to hear Pink's new music, I have good news: Pink will drop Beautiful Trauma's first single, "What About Us," tomorrow, Aug. 10!
Even if you're not wild about Pink's music, you have to admit this is an exciting time. Five years is a long time between albums, and many people can't wait to hear what Pink has in store.