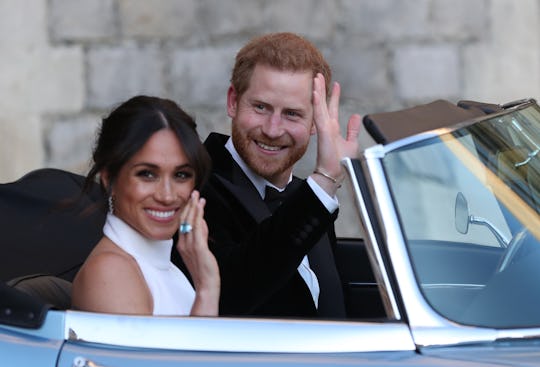 WPA Pool/Getty Images Entertainment/Getty Images
Here's Everything We Know About Prince Harry & Meghan Markle's Honeymoon Plans
Prince Harry and Meghan Markle need a day off. After they had their gorgeous whirlwind of a wedding last Saturday, Prince Harry and Markle immediately went back to work, two days later, making their first appearance as a married couple for Prince Charles' birthday. Since they are hard at work and obviously need a time to breathe, this begs the question — when will Prince Harry and Meghan Markle take their honeymoon? The answer to that question is anyone's guess — they could even be on their honeymoon right now (but it's not that likely).
Royal watchers knew that Prince Harry and Markle wouldn't be taking their honeymoon right away. In the beginning of May, Kensington Palace announced that Markle and Prince Harry would return to work, first, before going on their honeymoon, according to E! News. This wasn't seen as too odd, considering Prince Harry's older brother, Prince William returned to work soon after he married Kate Middleton in 2011, according to the New York Post.
But when Kensington Palace confirmed that Prince Harry and Markle were delaying their honeymoon, they didn't confirm when Prince Harry and Markle would take their honeymoon, either. This is likely to protect Prince Harry and Markle's privacy — a honeymoon is supposed to be a vacation meant for the newlyweds to celebrate their married life together — not for everyone else to be there with them. And, to be fair, wasn't tuning in to the royal wedding last week enough for fans, anyway?
Because they're likely going to keep both their honeymoon location and date private, everything is simply just speculation. But some people have theories about when Prince Harry and Markle might take their honeymoon. The couple's next public appearance is reportedly scheduled for June 9 for the annual Trooping the Color celebration, according to People. That is in two weeks from now, and gives them plenty of time to fit some rest and relaxation in some exotic locale between now and then.
If you're looking for someone to lead by example, Prince William and Kate Middleton waited 11 days after their wedding in late April before jetting off to the Seychelles, according to Pop Sugar. If they waited such a short amount of time before heading off to their location, it is very possible that Markle and Prince Harry can head off just as soon (especially since it's only been six days since their wedding).
But it is also possible that they might wait even longer to take their honeymoon — especially since they reportedly have other business to attend to. Prince Harry and Markle are reportedly heading to Mexico, first, to reportedly meet Markle's father who is currently recovering from a heart operation, according to Marie Claire. But on the other hand, some people even believe that Prince Harry and Markle are on their honeymoon now, according to Hello!. Especially since Prince Harry was absent from a charity polo match on Friday that he takes part in every year.
And while Mexico sounds like the perfect honeymoon location for any ordinary couple, Markle and Prince Harry are anything but ordinary. People are speculating that the couple will head to Africa (some people believe they're headed to Namibia or Botswana), according to The Sun, or Barbados, where they will finally get some time to relax as a couple (but this is all pure speculation).
While people are eager to know all of the details about their honeymoon, it is unlikely that they will be clued in on them. When Prince William and Middleton took their honeymoon, they asked for the media to "not intrude" on their honeymoon and to "leave them alone," according to Newsday. Prince Harry and Markle will likely ask the media to do the same.
Rest assured, they'll be going on their honeymoon within due time but they won't be broadcasting all of the details when they do take it.