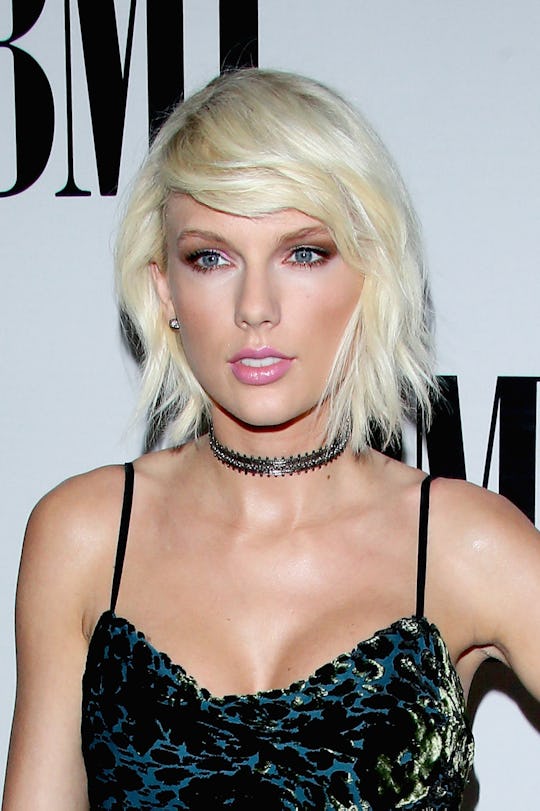 Mark Davis/Getty Images Entertainment/Getty Images
Here's When 'Reputation' Will Be On Apple Music & Spotify, So You Can Calm Down Just A Lil
Taylor Swift dropped her long-awaited sixth studio album on Friday at midnight, and the internet immediately started burning down (if such an entity can burn down...). "Repuation," yes, misspelled, started trending on Twitter instead of Reputation, and the album wasn't even available on Apple Music or Spotify to stream. Yeah, to say sh*t hit the fan would be an understatement. But, before you set anything on fire, don't worry, here's when Reputation will be on Apple Music and Spotify, and all will be right in the world.
By Nov. 3, a full week before the album dropped, Swift had sold 400,000 preorders of Reputation, which is more than double her preorder number for 1989, according to USA Today. In its first week, USA Today reported that 1989 sold 1.3 million copies, joining Red and Speak Now in her list of albums that sold at least one million copies in just the first week. That's why the music industry thinks Swift's Reputation could sell as many as 2 million copies in just the first week, and they might just be able to do that because of her team's streaming-service strategy. Guess how long Swift and her team are keeping the album off Apple Music, Spotify, and other services? You guessed it: one week from the day it goes on sale, according to Bloomberg. So fans should be able to stream the album by Nov. 17, after it has broken that 2-million copies goal.
That's just not soon enough for fans, though, who want the album and they want it now! *Throws toddler tantrum on the floor. There were a plethora of sad, angry, and confused reactions on Twitter in the very wee hours of the evening on Thursday/morning on Friday.
A lot of fans stayed up until midnight for the album drop, and then when they realized it would only be available for purchase they promptly peaced the f*ck out, and who can blame them. Streaming is the norm these days. But clearly Swift's team's strategy — to delay release of the album to streaming services in the hopes of increases the first week of the album's sales — is working out like an evil scheme that New Taylor would be proud of.
And the strategy of withholding an album from streaming services to help increase sales and downloads actually has a fancy name — it's called "windowing," according to Newsweek, and it's previously been successful for Beyoncé, as too many of us know (I caved. I bought Lemonade. She got me.), and Adele. And still, still, Lemonade isn't even available on streaming services, because the queen refuses to compromise the power of her throne. You've gotta respect that. Anyways, here are eight reasons I love Beyon... oh, wait, we were talking about Taylor Swift. Right. So, back to that.
Don't shoot the messenger, but there is a small, itsy, *teeny* chance that Reputation won't be available to stream a week from Friday. I know, I know, please don't kill me. The Verge reported Tuesday that streaming services are "still negotiating" with Swift's team. Apparently Swift has a long-running, back-and-forth sort of feud with streaming services, too? As we all know, she pulled all of her music from Spotify three years ago because she believed services like it actually hurt artists and their ability to make money (because clearly that's a problem for her...). But she left all her music on Tidal, according to The Verge. She didn't put 1989 on any streaming service at all, and then, without any reason or public announcement — which is totally unlike Taylor — she added all of her albums to Spotify in June.
The whole thing is incredibly confusing, and, who knows, maybe Swift could decide yet again that she thinks streaming is the Anti-Swift and will refuse to drop Reputation to Spotify or Apple Music ever. All I can say is that I will not be anywhere near Swifty Twitter when that happens.
Check out Romper's new video series, Romper's Doula Diaries:
Watch full episodes of Romper's Doula Diaries on Facebook Watch.