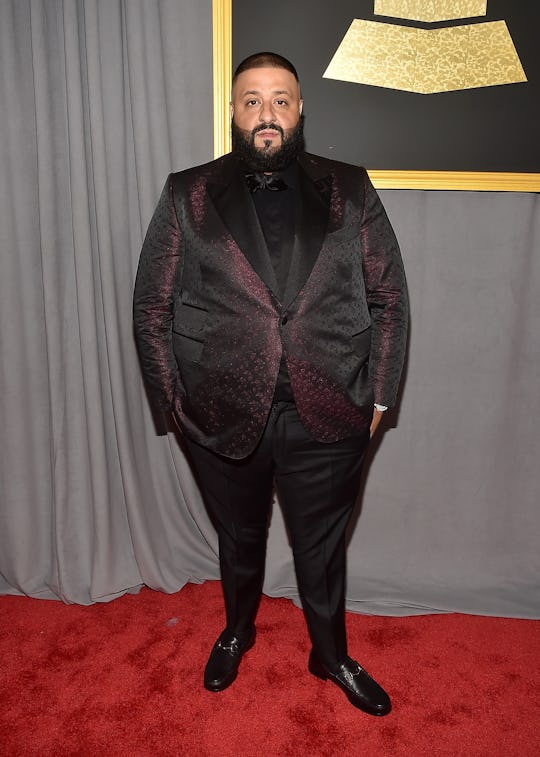 Alberto E. Rodriguez/Getty Images Entertainment/Getty Images
DJ Khaled's 'Shining' Is Already On Spotify
Although Adele was the big winner at the Grammys, for many fans, last night was all about Beyoncé. Not only did Adele dedicate her speech after winning Album of the Year to the glory of Lemonade, DJ Khaled also dropped a new single called "Shining" that features Queen Bey and her hubby Jay Z. The track was released on Tidal, but for those who want to listen for free, we're sure you want to know when will "Shining" be available on Spotify.
DJ Khaled announced the song on Instagram shortly after the Grammy festivities were over on Sunday night. "Shining" was released on Tidal, the paid music streaming service owned by Jay Z, which is not surprising since he is featured on the track. DJ Khaled has also previously waited to release his music on free streaming platforms. DJ Khaled has had a strong relationship with Apple Music, and the single is already available on iTunes, for $1.29. So that's why it's surprising that "Shining" is actually already available on Spotify.
Although much of DJ Khaled's music is available on Spotify, I'd normally expect a longer wait until "Shining" was available for free. But it's likely the single was put on Spotify right away to build up anticipation for DJ Khaled's album coming out later this year.
Fans are already enjoying the single, which has likely helped them get over the saltiness of Beyoncé not winning Album of the Year.
The song is a celebration of happiness, which is appropriate since DJ Khaled's upcoming album is entitled Grateful. At a press conference last week announcing the album's upcoming release, Khaled talked about the theme that ties the album together, Vibe reported. "The message here today is love. Love is the key and love is the answer." Khaled continued his positivity by putting his son, Ashad, on the cover of the single.
I appreciate the joy celebrated through the song's lyrics, particularly because so much of contemporary music is sorrowful and even dark. In uncertain political and social times, hearing a song about happiness is exactly what people need.
My favorite lines of the song belong to Beyoncé, who sings that is up to you to make yourself happy; not money or a romantic relationship: "Money don't make me happy/And a fella can't make me fancy/We smiling for a whole 'nother reason/It's all smiles through all four seasons"
Beyoncé and Jay Z likely won't be the only artists to look forward to hearing on Grateful; The Los Angeles Times reported that DJ Khaled has recently been seen with Travis Scott, Mariah Carey, Future, Alicia Keys, and Chance the Rapper. But of course, Queen Bey comes first.