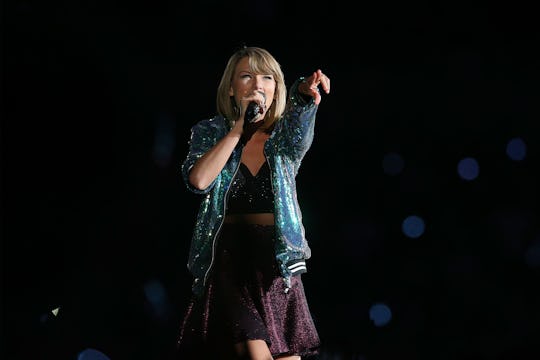 Graham Denholm/Getty Images
When Will Taylor Swift's Next Album Come Out? The Grammy Nominee Will Likely Drop A New One Soon
By now, most everyone knows Taylor Swift will be opening for the Grammy Awards — she's up for seven awards this year, I might add. Swift will be performing a song from Album of the Year Grammy award contender 1989 — an album that by now, most of us know by heart. But what fans don't know is when Swift will be launching her next project that is bound to make America fall even more in love with her. The question on everyone's minds: When will Taylor Swift's next album come out?
Swift's last album was the popular 1989, which she released in October of 2014. Thankfully for Swift, 1989 had more than enough hit-worthy content to prolong initial excitement. Actually, she can probably still hear the pre-teen girls screaming from her 1989 world tour, which came to a close this past December.
But in 2016, the album rumors are already flying, and fans are ready for what Swift has planned next. It was reported this past fall that Swift had plans to settle in for some much-deserved downtime after her 1989 tour came to a close. In an interview last October, Swift told NME magazine,
"I think I should take some time off. People might need a break from me. I'm going to hang out with friends. Write new music. Maybe not write new music. I don't know."
That said, now she's back to open the Grammys, so Swift must have decided downtime isn't for her. And ... if history is any indication, Swift is set to launch her sixth studio album in fall 2016. Think about it. Taylor Swift, released October 2006; Fearless, released November 2008; Speak Now, released October 2010, Red released October 2012; and lastly, 1989, which hit our iPods courtesy of Swift in October 2014. Notice a trend? You're not the only one. But interestingly, Swift fans might be in for something "very very different" than 1989 from Swift's new project. In chatting about possibilities for a new album, Swift told MTV last April, "I think it's going to have to be something very, very different creatively."
Although it's unclear for sure when the darling of country turned princess of pop will release her next full album, it's not like Swift is leaving her fans out to dry. In fact, the 26-year-old singer just recently released the video for 1989 tune, "Out of the Woods," that ended with a feminist message which lit up the internet on New Year's Eve:
"She lost him.
But she found herself.
And somehow that was everything."
Swift's fans are hoping that she sticks to her habit of dropping a new group of hits every two years, followed by a supporting tour, but rumors of breaks make it hard to guess when Swift's next album will drop. That said, at least loyal Swift fans have the upcoming Grammys to look forward to.