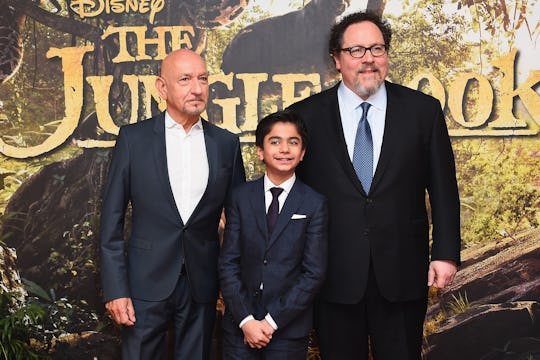 Ian Gavan/Getty Images Entertainment/Getty Images
When Will 'The Jungle Book' Be Available On Netflix? You May Have To Wait A While
I know what you're thinking — you've seen Disney's latest version of The Jungle Book. You loved it, your kids loved it, the whole experience made you want to give up your three bedroom, one-and-a-half bath ranch bungalow and move to the jungle yourself. But now you're wondering, what next? What are you supposed to do with your time? Short of going to the movies to watch it on the big screen again (and take out a small loan just to pay for the popcorn, soda, etc.), you're going to have to wait to find out when The Jungle Book will be available on Netflix before you make any concrete plans.
Well, I have good news and bad news for you. The good news is, there are a few versions of Rudyard Kipling's classic tale about a man-cub named Mowgli surviving in the jungle already floating around Netflix. The bad news is, the latest Disney version is not one of them, for obvious (but still frustrating) reasons: Not only is it likely that The Jungle Book will remain in theaters for a while longer, there's no guarantee that Netflix will even pick it up for a while, if at all.
"Essentially, Netflix re-emphasizes the fact that it's more of a channel than a library of every film that's ever been made," IndieWire's Tambay A. Obenson wrote in a 2013 column, referencing a video the company had released that same month, in which Netflix Global Media Relations Director Jenny McCabe described how the company's services worked. "... Really, it comes down to money and rights to content. In short, it's currently cheaper and easier to buy DVD rights, than it is to buy the rights to stream every movie and television show we all would love to see offered by the service."
Still, it sometimes feels like audiences everywhere were just sitting around waiting for The Jungle Book to debut in theaters. Admittedly, it wasn't exactly a fantastic winter at the movies (which seems ridiculous; I mean, what else do you want to do in the winter other than go to the movies? Ski? Gross). In fact, it was pretty much a long, dull, grey winter lacking in colorful entertainment until The Jungle Book came along to save us all. According to Rotten Tomatoes, the critics' consensus of the movie was even more positive than expected, earning a whopping 94 percent "certified fresh" ratings.
"As lovely to behold as it is engrossing to watch, The Jungle Book is the rare remake that actually improves upon its predecessors, all while setting a new standard for CGI," Rotten Tomatoes concluded.
Clearly, the movie has to be seen the first time around on the big screen to be fully appreciated. But it should hold up nicely on your small screens as well, especially since director Jon Favreau (Iron Man, Elf) had the good sense to employ a pretty decent set of actors to lend their voices to the movie, including Ben Kingsley (Bagheera), Scarlett Johannson (Shere Kaa), and Bill Murray (Baloo) to name a few.
So while The Jungle Book most likely won't be released on Netflix for a while (again, if at all), there are a few other versions of the story you and your little ones can check out in the meantime. In fact, some fans are already getting their Mowgli-fix by tuning into Netflix's Jungle Book alternatives (1998's Mowgli's Story, and a 2010 animated reboot) and reviewing them on social media:
Other fans hoping to at least catch the original 1967 Disney classic, with the snappy musical numbers and super intense man-eating tiger Shere Khan, were left disappointed:
Netflix does offer The Jungle Book 2, just not on its streaming plan. In order to watch it, you'd have to either subscribe to Netflix's DVD plan or find it through another service.
So it looks like your Jungle Book-viewing options might look something like this:
Go back to the theater to watch it again on the big screen. If you feel that concession stand snacks are too much of a financial commitment... ever considered smuggling in some Twizzlers? Live a little!
Watch some of the other versions on Netflix.
Rent yourself the 1967 classic and relive your childhood.
Find someone with the scientific knowledge to put you into hypersleep in some sort of cryogenic chamber until Netflix finally carries it. Or another good movie comes out. Whichever.
Whatever the case, start planning now. The wait's probably going to be a long one.