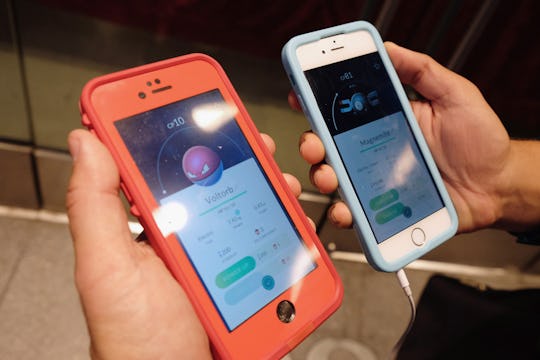 Mike Coppola/Getty Images Entertainment/Getty Images
When Will The Pokemon Trainer Club Be Fixed? Users Don't Want To Use Their Google Accounts
It was bound to happen, people. The success of the "Pokemon Go" app probably could not have been realistically quantified by its genius creators. Who would have believed that, in the first weeks of its launch, it would be downloaded more than 50 million times? I mean, there's popular and there's "Pokemon Go" popular. So sure, issues were bound to happen, but users are anxious to know specifically when the "Pokemon Go" Trainer Club will be fixed for a very important reason.
Niantic Labs, the company who created the free "Pokemon Go" augmented reality app, has had some serious issues with the "Pokemon Go" Trainer Club login. The "Pokemon Go" Trainer Club login allows users to access the game without going through their Google account. The Pokemon Trainer Club comes with a few added privileges, like a monthly newsletter that will often offer users download codes to catch rare Pokemon. But perhaps more importantly, the Pokemon Trainer Club offers users something even more precious than that rarest of Pokemon, Mewto: it offers a bit more privacy. Some users of the insanely popular app are concerned about their privacy when logging in with their Google account due to the possible security issues. Since then, Niantic has said its updated the app to prevent the privacy issues associated with logging in through a Google account. Still, some people want to be extra safe.
Unfortunately, the Pokemon Trainer Club login has been crashing so often with a crazy amount of error messages that users just can't take it.
So why don't users want to do a little Pokemon hunting with their Google login? In the days after the game's release it was announced that Niantic Labs was essentially being allowed full access to users' Google accounts and all of the important information stored therein. All of your information could have potentially be collected and analyzed by Nintendo/Niantic Labs, and if just one hacker got that information.... well, you can imagine the massive security risks.
According to Polygon.com — which, note, never actually verified whether Niantic was using the information in people's accounts — Niantic Labs launched a new version of "Pokemon Go" in response to the security risk concerns. "Pokemon Go" 1.0.1., the company promised, will drastically reduce the amount of Google data the game can access. But some users are still wary about the Google login process and want to continue with their "Pokemon Go" Trainer Club login. If only it would work...
Niantic Labs continue to work on stabilizing its servers, but the "Pokemon Go" Trainer Club login remains "unstable," according to several websites like Pokemon Go Server Status, dedicated solely to (you guessed it) updating users on the latest "Pokemon Go" server issues.
The bad/good news? "Pokemon Go" is becoming more popular (and available in more countries) by the day, which could either mean the creators will be rushing to get the "Pokemon Go" Trainer Club login issues fixed quick, or the server will continue to crash.
Come on Pikachu, get this sorted out.