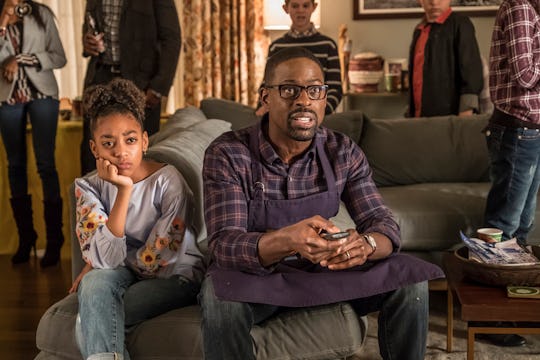 Ron Batzdorff/NBC
Here's Why You Shouldn't Expect To Find 'This Is Us' Season 2 On Netflix
As hard as it is to believe, the second season of This Is Us is coming to a close this Tuesday, March 13, which means we won't get to check back in with the Pearson family until next fall. And since that seems like years away at this point, some of you may be curious how you can go about rewatching the episodes all over again. So when will This Is Us Season 2 be on Netflix, you may ask? It's never too soon to relive everything that happened this year, especially since we're going to have to wait an entire spring and summer before Season 3 premieres on NBC. Unfortunately, it looks like you won't be finding the series on Netflix at all anytime soon.
While Netflix is home to thousands of popular titles and seems to be growing its library every day, Hulu is a strong contender and is home to a lot of NBC content, which the service tends to gain exclusive streaming rights to for shows that are currently on the air. And that's exactly where you'll be able to find This Is Us if you're looking to rewatch a few of your favorite moments.
In May 2017, The Hollywood Reporter announced that Hulu struck a deal with NBC to land streaming video and on demand rights to This Is Us for past and future episodes of the series. So while that means Hulu users will have access to all of the episodes, This Is Us probably isn't coming to Netflix in the near future.
The deal entailed that both Hulu and NBC will have rights to make This Is Us episodes available online on their respective websites and apps, so long as the user has a cable login. "It was important to NBC that This Is Us be accessible to as many rabid fans as possible as it continues to grow," NBC Entertainment chairman Robert Greenblatt announced at the 2017 Hulu upfront event in New York. "We're extremely pleased that this combination of platforms — Hulu and the apps of both NBC and (authenticated) on-demand providers — makes all episodes available in a way that hasn't been done before. This deal sets a new precedent, and we're thrilled that our partners at Fox and Hulu had the same goals in mind."
Although Netflix has produced plenty of its own original hit content, there's no denying that Hulu's grab of This Is Us was a great get. According to Deadline, This Is Us brought in an average of 15.3 million viewers for its first season alone, which made the NBC breakout series the number one new show of the season.
Since Hulu is a streaming service that actually makes episodes of different TV shows available almost immediately following their live airing (usually by the morning after the original air date), you can already watch most of Season 2 immediately on the streaming service as well as on NBC.com. So while you won't be able to catch your favorite drama on Netflix, you can at least watch it over and over again in some digital capacity.
Even if you've already watched both seasons, you're probably going to want a refresher before Season 3 premieres after the summer comes to a close. Then again, maybe you'll just be in need of a good cry, and if that's the case, This Is Us will be there for you, provided of course that you have access to Hulu or NBC.com's streaming episodes.
Check out Romper's new video series, Romper's Doula Diaries:
Watch full episodes of Romper's Doula Diaries on Facebook Watch.