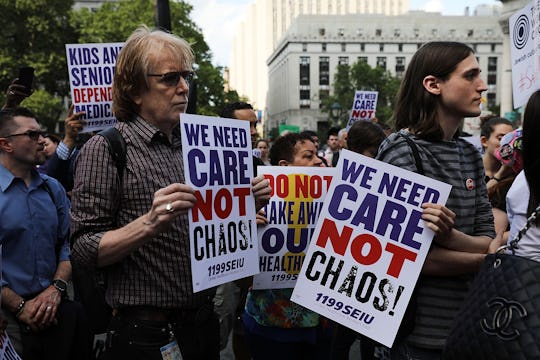 Spencer Platt/Getty Images News/Getty Images
Here's When The ACA Repeal Would Really Take Effect
As of Tuesday, Senate Republicans were still moving full steam ahead to repeal the Obama-era Affordable Care Act. Vice President Mike Pence broke a 50-50 tie in the motion to proceed, pushing any potential replacement bill (or an outright repeal) toward the debate stage. Americans are naturally left waiting breathless on the brink, unsure what the future of their access to health care will look like or even when the ACA repeal would take effect. Fortunately, there are still many labor-intensive steps the Senate must take before a final decision can be made. And even then, it would likely be years before the changes would fully take effect.
When Pence cast the tie-breaking vote in the Senate on Tuesday, siding with Senate Republicans, he was voting in favor of moving the proposed health care replacement plan to be debated. Arizona Sen. John McCain, who was recently diagnosed with brain cancer, was also on hand to move the bill forward. Only two Republican senators, Sen. Lisa Murkowski and Sen. Susan Collins, voted against the proposed health care repeal (as protesters in the Senate gallery shouted "Kill the bill!" and "Shame! Shame!"). Despite the fact that the details of any bill remain unclear, official debate will now move to the Senate floor for 20 hours. President Trump was jubilant at this small step forward, telling reporters in a White House news conference, according to CNN:
I'm very happy to announce that with zero of the Democrats' votes, the motion to proceed on health care has moved past and now we move forward toward truly great health care for the American people. We look forward to that. This was a big step.
Should repeal/replace legislation manage to make its way through the debate phase, Senate Majority Leader Mitch McConnell hopes to vote on a measure that can either go to the House and be taken up or go to conference," in which, according to ABC News, "differences between the chambers' bills are resolved."
If Congress passes an amended bill (it's still unclear whether Senate Republicans plan to debate the Better Care Reconciliation Act or the Obamacare Reconciliation Act or something new, or debate something new altogether), it will then be sent to President Trump for his signature.
Let's just say, for argument's sake, that all of these steps take place — that the Senate can come together to vote on an acceptable replacement for Obamacare, that Congress will be in agreement, and that President Trump will sign it. The new health care plan will not be enacted overnight.
According to The New York Times, the ACA repeal could take two to four years to be fully implemented. Contracts with health insurance providers have already been signed for 2017 and cannot be changed. Next year, if the repeal bill does indeed move forward, people could see disruptions to their health care coverage, especially if the legislation looks anything like previous drafts, which left around 32 million uninsured by 2026, according to the Congressional Budget Office.
That's why it remains so important to let your elected officials know how you feel about the ACA repeal. Because whether or not the change comes within months or years... the impact could still be devastating.