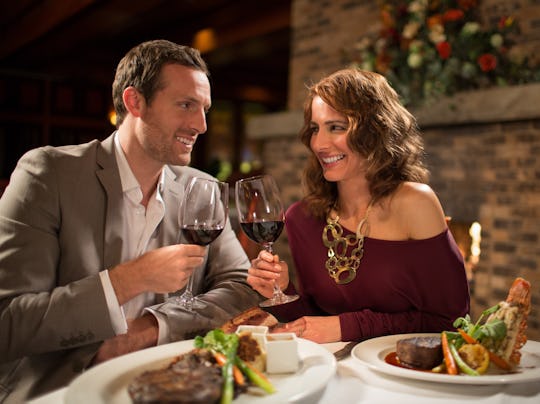 When's The Best Time To Make A Valentine's Day Reservation? It's Not Too Late (Yet)
Valentine's Day is almost here and the aisles at Target are full of pink and purple hearts. No matter how you feel about the day of love, I don't think anyone is willing to turn down some flowers, a box of chocolates, and a romantic dinner without crayons on the table, am I right? But planning ahead for the holiday isn't always at the top of everyone's priority list. You may be able to get away with buying a box of Valentines the night before for your son's first grade class, but when should you make Valentine's Day dinner reservations? Is it already too late?
Not exactly, but you may be cutting it close according to Alex Pena, manager of the Great Oak Steakhouse at Pechanga Resort & Casino in Temecula, California. "A few weeks to one month is a good rule of thumb for special occasion reservations, longer if the establishment is more exclusive," says Pena. With nearly ten years of fine dining management experience at Pechanga, Pena is definitely an expert on special occasion reservations. "Every Valentine's Day, without fail, we see couples who have their hearts set on going to a nice, upscale restaurant like the Great Oak Steakhouse. It's an occasion for them and they've probably waited a long time to go out on a special date," Pena says. "When they get here, however, they discover they should've made reservations several weeks ago."
He also notes that for many of people, this can be a bigger blow than just missing out on a fancy dinner. "Couples have hired babysitters and even bought new outfits for the occasion," Pena says. And what's worse than having your heart set on a night out with your partner, a night without the kiddos, only to find that you're going to have to settle for McDonald's?
It's also important when making reservations in advanced to pay attention to the amount of fine dining restaurants around you. Pena suggests that if you live in a less metropolitan area, you should make your reservations even earlier than you think. "Generally, the selection of fine dining restaurants ends up to be fewer the further outside of a major city you go," he says. "Great Oak Steakhouse is pretty much right in between Los Angeles and San Deigo with a huge population within fifty miles of the resort, but very few upscale dining outlets."
Pena also recommends calling your restaurant of choice to see if they accept reservations. "Some dining establishments may usually accept walk-ups, but on special occasions, they only take parties that have made reservations."
Still need convincing? In an effort to see if Pena's advice was correct, I tried to make reservations at three of the top Atlanta restaurants today. Not a single one of them had tables available from 7 to 8:20 p.m. on Valentine's Day. This is not a drill. If you want a fancy dinner date on V-Day, I'd start making some calls ASAP.
Images: Courtesy of The Great Oak Steakhouse at Pechanga Resort & Casino