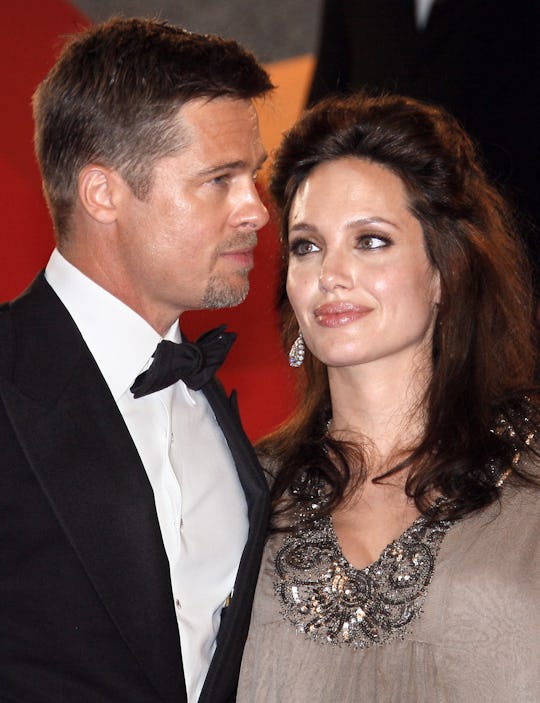 FRANCOIS GUILLOT/AFP/Getty Images
Where Are Angelina Jolie & Brad Pitt Living? Their Big Family Has A Beautiful Estate
It seems like just a few days ago that people were saying they would never last, and just yesterday, others thought they would last forever. How quickly things change. Actress Angelina Jolie announced Tuesday that she is divorcing Brad Pitt and asking for sole custody of their six children. While Pitt and Jolie seemed to be living an idyllic life in France with their big, happy brood, it turns out that wasn't necessarily the case.
Jolie and Pitt (rather famously) met on the set of the otherwise-forgettable 2005 action flick Mr. & Mrs. Smith, while Pitt was still married to actress Jennifer Aniston. The couple became an insta-family pretty quickly with Jolie's recently adopted son Maddox (who was born in Cambodia), and added five more children to the brood; Pax, Zahara, Shiloh, Vivienne, and Knox. While the couple were the utter embodiment of international cool gypsy family, traveling the world with their kids to the far-off corners of the earth, they made a beautiful home for themselves at a winery in France, Chateau Miraval. Pitt also owns property in Los Angeles, naturally, but when it came time for the pair to marry in 2014, they chose Chateau Miraval as the backdrop for the big day. I think we should all take a moment to enjoy the pure beauty that was Jolie's wedding dress, covered in art work by her children. It almost makes a girl want to get remarried, just because.
Their 100-acre estate, situated at the end of an ancient Roman road in the village of Correns, France, came complete with every essential one might need if they were either a Gothic princess or a Hollywood power couple: a moat (to keep out pesky paparazzi), a private lake, a working vineyard, and, obviously, a legendary recording studio. Chateau Miraval also boasts 35 rooms, several tenant houses on the property, and the obligatory servants' quarters that are probably better than any house I've ever lived in.
While the Pitt-Jolie brood certainly made it their own (since the couple purchased the estate in 2012, Pitt has added a dirt bike course, indoor and outdoor pools, and a state-of-the-art video games room for the kids), there were rumors swirling around the internet as early as June that Jolie specifically wanted to sell the family estate. While her reasons were reportedly based on wanting to relocate to London to pursue a political career in the House of Lords, insiders told Us Weekly that Pitt wasn't a fan of leaving the sprawling family estate in France.
Of the divorce this week, an attorney from Jolie's camp noted in a statement,
This decision was made for the health of the family. She will not be commenting, and asks that the family be given its privacy at this time.
In a similar vein, Pitt also pleaded with the public for privacy, as the couple went through the motions, in a statement to People:
I am very saddened by this, but what matters most now is the well being of our kids. I kindly ask the press to give them the space they deserve during this challenging time.
One thing is for certain — if the Jolie-Pitt clan do decide to sell Chateau Miraval and move on with their lives, it will be a sad day for all involved.