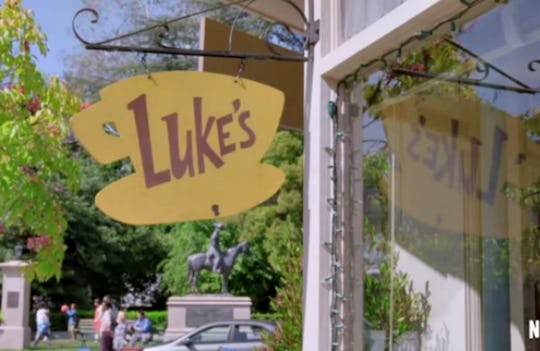 Netflix/YouTube
Where Are The Gilmore Girls Luke's Diner Pop Ups Because You Need Coffee Now
Every Gilmore Girls fan has toyed with the idea of how cool it would be to eat in Luke's diner and swill coffee with the locals. Well, that dream can now come true. In the lead up to the premiere of Netflix's Gilmore Girls reboot, the streaming network is recreating the diner for fans to visit and get in the Stars Hollow mood. So where are the Gilmore Girls Luke's diner pop ups so you can get your fix this week? Luckily, the pop up cafes are going to be all over the place — even in Canada —and (most) of the coffee is free. That's a done deal.
On Oct. 5, Netflix is opening up 200 diners nationwide and there is at least one per state, so you don't have to be just in Los Angeles or New York or some other major entertainment hub to join in on the fun. There will also be merchandise for purchase, like t-shirts and Luke's Diner aprons, and "all the Luke's Diner essentials," according to the website. You can find a full list of the pop ups here to see how far you'll have to travel. It will be a day-long adventure. The diners will be open just from 7 a.m. to noon and Netflix is only paying for 250 cups of coffee, so you'll have to wake up early and wait in line if you can't buy your own. Maybe there will even be a special omelette.
There's no word about how attractive, gruff, or flannel clad the baristas will be, but it's probably safe to assume they'll be a little bit of Luke in all of them.
Netflix experimented with a replica cafe at VidCon in California last June and obviously fans were into it enough that they thought it would be a good way to get the word out about the reboot. The streaming channel is going pretty hard with promoting the new mini-series with these shops, a possible Gilmore-themed cookbook, and having all seven seasons of the hit show available to stream so rookies can catch up before the premiere of Gilmore Girls: A Year in the Life on Nov. 25.
The reboot is definitely going to be worth it. There are just four episodes that take place in the present day and most of the original cast makes an appearance. It's a little jarring to see Lorelai and Rory chit chat about whether Amy Schumer would make a good friend and joke about IRL things like Gwyneth Paltrow's lifestyle website, Goop, but a true Gilmore-fan will take whatever they can get.
Even Alexis Bledel said that getting in the zone was like riding a bike. "I read the first three [episodes] in one sitting. I was on page 7 or 8 [of the script] when I remembered: Of course, this is that inviting town where everything is so familiar," she told Entertainment Weekly. Bledel added, "And I felt like I was enveloped back into that time and place; wherever it exists in people's imaginations, I was reminded of where it was in mine."
Where there's coffee, there's a Gilmore Girls fan. It's the perfect way to get in the mood for a binge-watch in November.