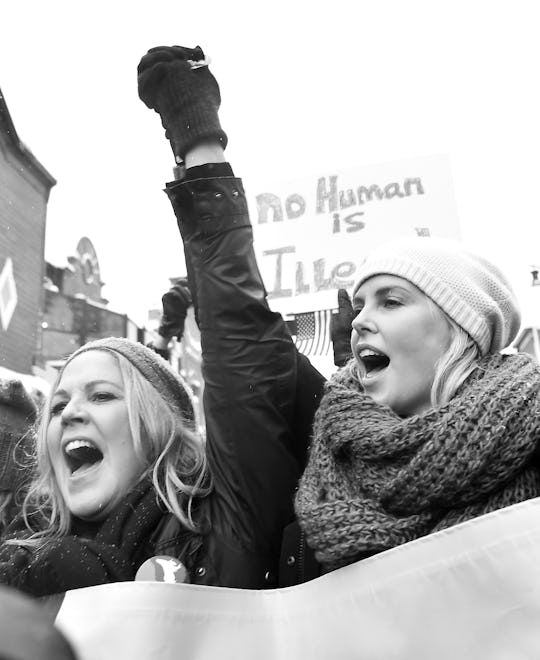 Michael Loccisano/Getty Images Entertainment/Getty Images
Where To Join The Women's Strike Resistance
International Women's Day is Wednesday, Mar. 8. It's a day to not only celebrate being a woman, to congregate and celebrate other women, but also to resist. To fight back against a patriarchal world view, to demand justice for millions of women all over the world who continue to have their rights and freedoms withheld. This year, millions of women plan to strike on International Women's Day. Feminists across the globe are finding out where women's strikes are starting and planning to congregate, to demonstrate, and to give the world an idea of what A Day Without A Woman might actually look like.
The organizers of the Women's March on Jan. 19 to protest the Trump presidency have joined forces with the International Women's Strike to form a worldwide protest on Mar. 8. At least 30 countries will be participating in the Women's Strike, planned and organized by women. According to the Women's Strike website:
In the spirit of solidarity and internationalism, in the United States March 8 will be a day of action organized by and for women who have been marginalized and silenced by decades of neoliberalism directed towards working women, women of color, Native women, disabled women, immigrant women, Muslim women, lesbian, queer, and trans women.
This time around, strike organizers are resisting "not against Trump and his misogynistic policies, but also against the conditions that produced Trump, namely the decades long economic inequality, racial and sexual violence, and imperial wars abroad."
In the U.S., dozens of cities are organizing strikes for A Day Without A Woman. In places like Washington D.C., where strikers will congregate in Freedom Plaza at 11:00 to protest Trump's global gag rule, a rule the president reinstated that prevents international health service providers from offering abortion services or discussing abortion as an option; if they fail to comply they lose critical federal funding:
Trump's global gag rule is a grotesque expansion of a failed, deadly policy that prohibits foreign organizations that receive U.S. global health assistance from providing or even discussing abortions with patients. This rule now threatens access to safe abortion and other basic health care for millions of people around the world.
Other women's strikes and protests will be held in cities around the country; to find the closest strike happening near you just click here.
Not all women can go on strike, but there are other ways you can support the movement. You can show you stand in solidarity with your sisters by:
Women take the day off, from paid and unpaid labor
Avoid shopping for one day (with exceptions for small, women- and minority-owned businesses).
Wear RED in solidarity with A Day Without A Woman
Because we owe it to ourselves, and to future women everywhere, to resist. And persist.