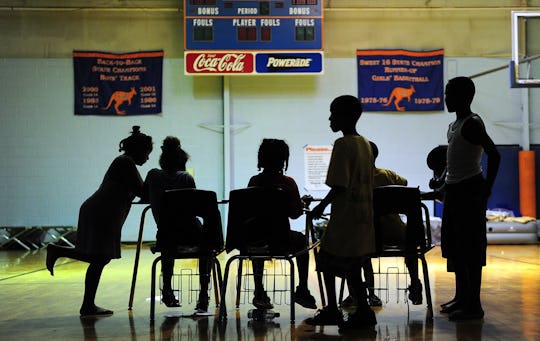 FREDERIC J. BROWN/AFP/Getty Images
Where Can Louisiana Kids Go If Their School Is Closed From The Flood? Summer Is Ending
The state of Louisiana is still trying to come back from one of the worst floods it's seen in modern history. Many roads remain closed, buildings and businesses have been damaged beyond repair, and families have found themselves homeless. Now that the summer is drawing to an end, parents are beginning to wonder about the next step for their kids. Where can Louisiana kids go if their school is closed from the flood? Parents are looking to restore a little normalcy to their kids' lives, and some might have been looking to a return to school as the answer. But will that be possible any time soon?
According to The Washington Post, 22 districts across the state have been closed due to flood damage. While the damage to many of the physical classrooms has been severe, Louisiana state superintendent John White told The Washington Post that most of the districts plan to welcome children back to school within the next two weeks. This will mean a delay to the beginning of the school year for 265,000 students (approximately 30 percent of all students in the state), but White's primary concern at the moment is not the classrooms.
"There is the facility and capacity in the region to serve all students," he said. "The greater challenge is displacement, especially of teachers."
In East Baton Rouge Parish, the second largest school district in the area, school was already in session for a few days when the flood waters came rushing in. The schools have since been closed, and a plan has been put in place to combine schools for the time being, even running two schools out of one building if necessary. Parish spokeswoman Adonica Pelichet Duggan said in a statement that students would be bused to their home schools regardless of where they were staying:
Our students need some sense of continuity. For a lot of our students, they will eventually be moving back to their neighborhoods. We want to keep as much stability for those students as they can possibly have at this point in their lives, when everything else is chaos.
While the Department of Education works towards helping displaced students and staff return to school, White says they remain mindful of the stress most of the children have experienced due to the floods:
We are being very intentional and conscious of the challenges children may have. It is critical that to every extent possible, schools should have counselors on hand to deal with the social and emotional needs of their students.
The state has placed a full list of schools online that remain closed in Louisiana, but parents should get in contact with the Department of Education or check their website for updates.