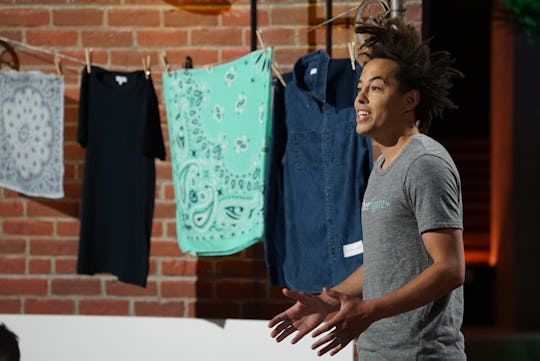 Eric McCandless/ABC
Why Father Figure From 'Shark Tank' Is The Clothing Line All Dads Need
For new mothers, there's no shortage of products and maternity clothing lines out there to choose from. But for dads, there's not a whole lot out there. Enter the first paternity clothing line ever, created by one dad who felt like he, and dads everywhere, could use some paternity clothes, too. To make this dream happen, he went on Shark Tank to find investors who shared his same vision. So where can you buy the Father Figure products from Shark Tank?
Creator Andrew Bentley headed to the show to tell the story behind his lifestyle brand for new dads. While his wife was pregnant, according to the Shark Tank Blog, he didn't find a lot of products that spoke to him as a new parent, although there were tons of things for the mom to toss in the cart while out on shopping trips. After he took a leave from work to care for his newborn son, Bentley really started to notice that companies were just not catering to new dads.
He wrote on the company's About page, "The books, the advice columns, the gear, the clothing — most of it didn't focus on fathers with any seriousness. It was as if my strong emotions — all the joy, all the love, the worry — weren't valid or respected." So he went to work trying to change that.
Right now, there are three Father Figure products, all manufactured in the U.S. at the moment, and available for sale directly from the company.
The Luca T-Shirt
This shirt is made of 100 percent jersey cotton and has an even softer shoulder spot for your baby's head. There are also loops for rags and toys, too. You can buy it on the website for $45.
The Booker Denim Shirt
This shirt is made with recycled denim and has loops on the side for burp rags and toys. There are also "soft spots" on the shoulders and arms for your baby's head. Right now, you can only buy it directly from the website for $128.
The Burping Bandana
Just in case those burp towels with cute little elephants don't go with your outfit, Father Figure makes sets of two bandanas for $24.
The company was launched via a Kickstarter last year but now things are starting to get a little bigger. With the help of one of the Sharks, Bentley hopes to further grow the business, likely by getting deals with stores or increasing the product line.
Bentley's research showed that there is an interest for products like these for dads, especially among millennial parents. He found that 84 percent of dads he surveyed felt left out of the culture surrounding fatherhood and wished companies would cater more to them. So there might be a gap in the market that Father Figure can really fill.
Bentley's also set up the company as a public benefit company and its first partnership is with Father's Incorporated, a non-profit that raises awareness about "positive father involvement" and educates men and women about how to foster healthy father-child relationships with their kids.
The non-profit also helps non-custodial dads who might be out of work and struggle to provide for their children financially and emotionally, get the support they need to help themselves and their family. So when you buy a super soft denim shirt from Father Figure, you're doing so much more than just dressing dads.
Watch Romper's new video series, Romper's Doula Diaries:
Check out the entire Romper's Doula Diaries series and other videos on Facebook and the Bustle app across Apple TV, Roku, and Amazon Fire TV.