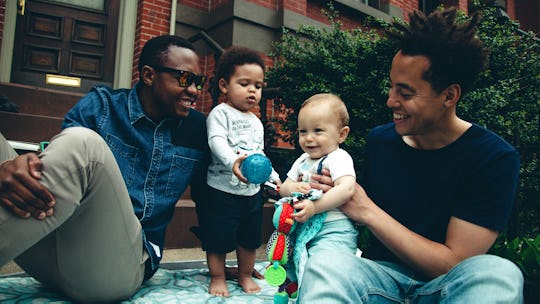 Father + Figure
Father + Figure Releases First Clothing Line For Dads & It Is Exactly What Dads Need
Head into any baby store, pick up any baby magazine, or watch any show focused on pregnancy, and you're going to find the same thing — lots of mommy talk. Obviously, Beyonce was right and girls run the world, but women aren't the only ones involved in the world of parenthood, which is exactly why Father + Figure is getting involved by releasing the first clothing line designed for dads.
The world of fatherhood is finally getting some recognition in society these days, and it's a big change from the way the world used to view dads. From big companies offering paid paternity leave to showcasing stay-at-home dads in popular TV shows like Doc McStuffins, it seems like involved daddies are finally getting their due. So where are the parenting items catered to them?
Research conducted by the team at Father + Figure found that 84 percent of millennial dads wish parenting related companies better understood their needs as actively involved fathers. The founder of Father + Figure, Andrew Bentley, writes "There aren't enough resources to help prepare for fatherhood and ease the natural anxiety that comes with it," noting that this is the reason he created Father + Figure — to inspire and support fathers.
The Father + Figure clothing line launched their KickStarter campaign today, showcasing three products that are both fashionable and functional, with built-in features to help fathers care for their little ones, like a discrete loop attached to each shirt to give dads an extra hand for burp rags and toys, and a perfect bandana burp rag any dad would be happy to carry.
From the soft material on the arms providing extra comfort for baby, to the classic, All-American design, there's plenty to love about Father + Figure and their clothing line. If the company's KickStarter campaign is successful, Father + Figure also has a partnership lined up with Father's Incorporated, one of the nation's leading responsible fatherhood nonprofits, to continue their work on strengthening the bond between fathers and their children, and building up a positive representation of dads in society.
Father + Figure's research found that 95 percent of millennial dads find it important to be actively involved in caring for their children. With this new clothing line from Father + Figure, the company hopes their products can not only make caring for children easier on dads, but that they can also encourage more present and caring parenting. Mom or dad, I think the whole world can get behind that mission.