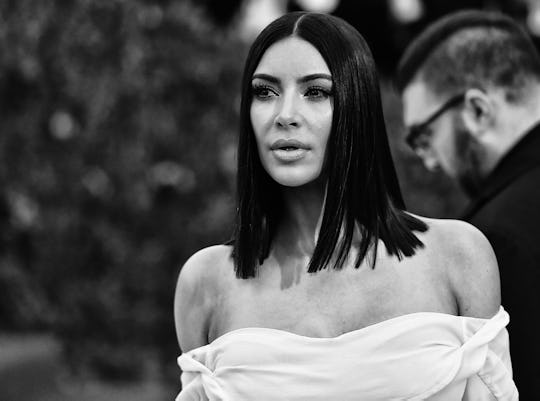 Mike Coppola/Getty Images Entertainment/Getty Images
Where To Buy Kim Kardashian's New Makeup Line
Kim Kardashian-West just doesn't quit. Whether she's filming a reality show with her family, designing a clothing line with her husband, Kanye West, or on mom duty with North and Saint, she tends to excel at anything she does. Which is why the announcement that she's launching a beauty line has people digging to find out when and where they can buy Kim Kardashian's makeup line.
Alas, it doesn't come out until June 21, at which point you'll be able to buy it online only at kkwbeauty.com for now. You can go sign up to get notifications right this very minute, which is highly recommended, since every time a Kardashian sister releases something online, it sells out immediately. (And if you don't nab a product for yourself right away, you're generally stuck bartering with people on eBay for an eye palette.)
There aren't too many details about what to expect from KKW Beauty, since Kardashian-West and the line's Instagram handle only posted a little video that shows the release date and the website. It's a pale, millennial pink background, so it's likely that the color palette will resemble Kim's signature makeup style — nudes, browns, with a little gloss thrown in for good measure.
Similar, possibly, to the lipstick collection she did with Kylie Cosmetics.
Speaking of Kylie, how does she feel about her big sister's foray into what can safely be called her domain? Let's hope there isn't any trouble among them. Likely not, since the Kardashian's have been dabbling in beauty forever — way before Kylie launched Kylie Cosmetics. Kim, Khloé, and Kourtney had a line called Khrome Beauty that was then changed to Kardashian Beauty, though its popularity waned (you can still buy some of the headbands at Ulta). Kim has also contributed a lipstick line to Kylie Cosmetics. For her KKW line with Kylie, she did just four lip shades that were priced at about $45 each, which hopefully will be a similar price point for her freestanding beauty line.
So beauty lines run in the family, and whatever is good for one of the Jenner-Kardashian clan is likely good for the whole crew. There's also no reason for the sisters to bicker over market share — both of them ended up on the Forbes 100 highest paid celebrities. At just 19 years old, Kylie is the youngest person on the list, coming in at number 59 with her estimated $41 million net worth. Kim, on the other hand, is in the 47th spot with an estimated $45 million net worth.
The more Kardashian-Jenner themed beauty lines the better — that way when one sells out we can just scoop up another.