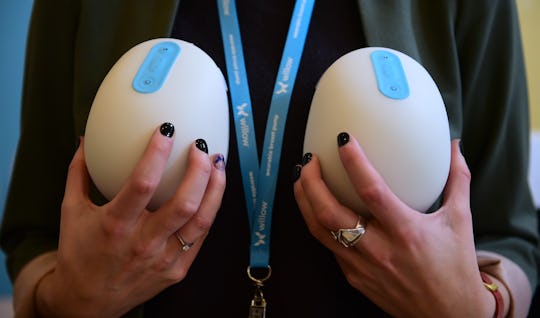 FREDERIC J. BROWN/AFP/Getty Images
Where Can You Get A Willow Smart Breast Pump?
The Willow smart breast pump might not be available to buy yet, but it's already made a big impression. The hands-free new invention is sure to be a best seller, with its all-in-one discreet design and accompanying milk production tracking app. So where can you get a smart breast pump?
Described as "the first all-in-one breast pump for the cord-cutting generation" by Insider, the Willow is a mobile device with a simplistic, clean design that is sure to appeal to busy moms. It's FDA cleared, and quiet and easy to clean — what's there not to like?
Unlike many other more bulky, noisy, and conspicuous breast pumps, according to the product's website, the Willow, "works quietly inside your bra, collects your milk in an internal bag, and tracks your volume through the app." It seems like the team behind Willow actually paid attention to some concerns many mothers have when it comes to breastfeeding and designed this new invention with those worries in mind. What a concept!
One of the main reasons people seem to be so interested in the Willow smart breast pump is convenience over privacy, because, "Unlike a regular breast pump, you can cook, wash dishes, or change a diaper while wearing Willow." (Or you can, like, work or do things that aren't home-related, too.) The rest of the world doesn't stop while you pump, so anything that can make the process a little more multitask-friendly is a welcome option for many moms.
So where can you buy this fabulous new invention that has the internet buzzing? According to the Wall Street Journal's "Best of CES" roundup, Willow is supposed to hit the market this spring and carry a $429 price tag. That might seem a little steep if you shop around and compare to other breast pumps, but for everything Willow includes and the convenience factor, it might be worth it for many consumers.
The Willow website allows you to sign up to receive emails when the product arrives if you're already sold on the product, so you can be the first mom on the block to try it out. Technology, am I right?
And speaking of technology, what exactly does the companion app do? Apparently, it can track your milk volume in real time, records past pumping sessions (for comparison and I guess if you're just curious), and it will alert you when it's time to pump again. Pretty fancy, huh?
The invention debuted at this year's Consumer Electronics Show, and turned out to be a hit. It's almost like a huge portion of the population could actually use an innovation like this and might be excited about its prospects...
Willow launches in the spring, and it appears that, for now, it will be available through the website. If you're really interested, it might be best to sign up for information on progress of the product, and to keep an eye on your inbox for updates.
If the reviews are true, Willow is sure to be your new breast friend.