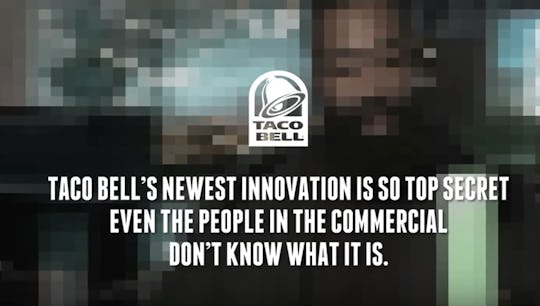 Where Can You Get Taco Bell's Quesalupa? The Super Bowl Ad Has Everyone Wondering
Taco Bell certainly knows how to keep viewers guessing. The whole schtick of its 2016 Super Bowl commercial, at least the version released in advance of the big game, is that, as the commercial states explicitly in text at the beginning of the ad, "Taco Bell's newest innovation is so top secret even the people in the commercial don't know what it is." Now that the commercial has aired and the product is finally revealed, the question on every Taco Bell fan's mind is: where can you get Taco Bell's Quesalupa?
The Super Bowl teaser featured NBA star James Harden ostensibly at a loss about the product. "They gave me this green brick. I guess they're going to use it for special effects," he says, sniffing a plain green brick. "You don't know what it is, but you already want to eat it," says a deep, synthetic voiceover, which is probably true for Taco Bell super fans. The teaser concluded by offering customers the chance to preorder it and get it two days early. According to the spot, it will be available "everywhere" Feb. 8.
When the commercial actually aired during the Super Bowl Sunday night, the product was revealed to be the Quesalupa, a quesadilla-chalupa hybrid. The reaction on Twitter was immediate:
But where can you get this coveted "innovation"? The promise that the Quesalupa will be available everywhere presumably means all Taco Bell locations.
Check out the original teaser below:
Now go get in line and get yourself a Quesalupa STAT!