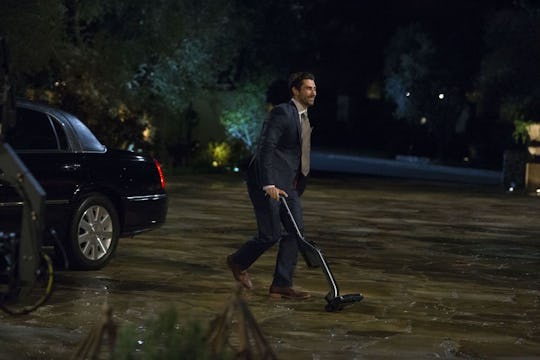 Paul Hebert/ABC
Alex From 'The Bachelorette' Still Has Ties To His Alma Mater
If this season on The Bachelorette has proven anything, it's that Rachel doesn't have time to mess around with men who don't know what they want or who aren't there with pure intentions. Luckily, many of the men chosen have impressive jobs and educations under their belt, like Alex, the accountant and information systems supervisor from Detroit. Of course, this means that fans are going to be asking where Alex from The Bachelorette went to school, since the contestant is quickly becoming a fan favorite after his striptease and lap dances (and overall great personality) during Week 3's big group date on The Ellen DeGeneres Show.
In 2012, Alex earned his bachelor's degree in accounting at Wayne State University in Detroit and while he was enrolled in school he was already working at Sutton Leasing, Inc., which is where he works now. But since graduating from college, Alex has maintained a side job at Wayne State University as an assistant strength and conditioning coach.
Though his LinkedIn account doesn't say which sport he currently acts as assistant coach for, it's likely swimming. According to the sports page for Wayne State University, Alex swam all throughout college and earned his first letter in swimming during his freshman year at college. So when he admitted to peeing in the Bachelor Mansion pool during the group date, it probably wasn't his first time.
Though Alex was a swimmer throughout high school and college, his career of choice ended up being in accounting and essentially IT, but it was thanks to his education at Wayne State University that Alex was able to work in his field of choice.
And if there are any physical endurance competitions this season that somehow involve swimming, we know he probably won't be bested. Much like how he couldn't be rivaled in his impressive dancing skills.
While it's true that the male models and aspiring drummers of Bachelor Nation make it easy for guys like Alex to compete with, it might not necessarily be that easy this season. This is a very well-rounded group of suitors who have extensive educations and careers, so it's a highly competitive season, to say the least. That means Alex will have work extra hard and be extra charming to get a leg up this season. Which, if we're being honest here, won't be all that difficult for him, given his genuine demeanor and fun personality.